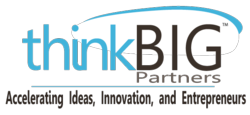 Kansas City, MO (PRWEB) March 13, 2012
Think Big Partners, an early-stage startup accelerator and business incubator, has announced the startup companies selected to attend the Think Big Showcase. Bixy, EyeVerify, KlinkMobile, LockerDome, LiveOn, ABPathfinder, InvenQuery, RollSale, SEIN Analytics and Asset Management, and Kauzu will travel to Silicon Valley on March 21-22, 2012, with the opportunity to pitch in front of Bay-Area investors during the Silicon Valley Bank Seed Showcase and Think Big Showcase.
Each of the ten startups earned a spot in the Think Big Showcase by participating in The Gigabit Challenge (held in January 2012) or the Think Big Partners Pitch Camp (held in February 20). These intense and vigorous "pitch practices" allowed the startups to prepare for the presentations they would give to influential Bay Area investors in Silicon Valley. Think Big Partners is doing its part to advance the success of these companies by putting them in a position to acquire essential funds.
Below is a list of ten Midwest startup companies selected by Think Big Partners and Silicon Valley Bank to participate in the showcases:

Bixy: Bixy's goal is to increase ad revenues for online media platforms. Businesses can utilize the Bixy toolkit to create their own ads in less than five minutes for as little as $50.
EyeVerify: A software authentication module that uses onboard cameras on mobile devices to take images of the blood vessels in the whites of the eyes to use as a unique biometric identifier.
KlinkMobile: Enables the transfer of cellular airtime minutes as well as currency via a proprietary, cloud-based financial transaction platform.
LockerDome: A sports startup which aims to be a person's sports/recreational identity.
LiveOn: Provides users a service which allows them to preserve a digital legacy.
ABPathfinder: Provides a technology to autism therapy by providing tools for therapists.
InvenQuery: A technology platform with mobile application that integrates inventory management and point-of-sale, with the ability to administer and publish an e-commerce website.
RollSale: A communications platform in which dealers are able to connect with other dealers in an environment that mimics usability of common social networks.
SEIN Analytics: An open cloud application and database for analyzing asset-backed securities. SEIN leverages its proprietary web scraping and data mining technology to rapidly standardize data across all ABS categories.
Kauzu: A startup with the goal to innovate and empower the United States employment industry by providing an online environment with tools to create timely connections. Kauzu is self-described as eHarmony.com-meets-eBay for the employment industry.
The Think Big Showcase will take place March 21-22, 2012, in Menlo Park, California and will coincide with the Silicon Valley Bank Seed Showcase. For more information on showcases, please visit http://www.thinkbigpartners.com/events/flyover-fieldtrip.html.
About Think Big Partners:
Think Big Partners is a technology-focused, early-stage startup accelerator and mentorship-based collaborative network located in Kansas City, Missouri. Think Big Partners has successfully launched and grown over 100 successful companies with its creation of coworking spaces, entrepreneurial conferences, essential services, startup resources and funding. To learn more about Think Big Partners, please call (816) 842-5244 or visit http://www.thinkbigpartners.com.
###