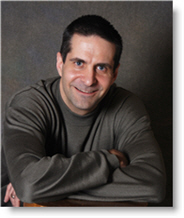 "SalesKatz gets it."
Cleveland, OH (PRWEB) March 12, 2012
SalesKatz, Inc. developer of the world's first true sales prospecting automation tool for salespeople, today announced that Sam Richter, Internet sales/marketing authority and renowned author and speaker has join its board of advisors.Know More!
Sam's award-winning experience includes building innovative technology, sales, and marketing programs for start-up companies and some of the world's most famous brands. He presents his customized, Know More!, keynote and training programs to audiences around the globe and is the author of the best-selling and award-winning book, "Take the Cold Out of Cold Calling", considered the preeminent publication on finding information online and using it for sales success.
"Sam's expertise in sales and marketing are unparalleled in our industry," said SalesKatz CEO and Founder Ken Zebracki. "He literally wrote the definitive book on Sales Intelligence with Take the Cold Out of Cold Calling. He trains some of the world's top sales organizations on the power of sales intelligence thus his multi-industry experience, keen insight, and considerable skill sets add tremendous value to the SalesKatz team."
Sam is founder and CEO of SBR Worldwide/Know More! and SVP/Chief Marketing Officer at ActiFi, a software and solutions firm serving the financial services industry. In 2011 he was named by InsideView as one of the Top 25 Most Influential People in Sales and one of the Top Chief Marketing Officers on Twitter.
For more than six years, Sam was president of a not-for-profit business library. He also spent more than eighteen years in executive roles in the advertising, public relations, and e-commerce/e-marketing industry. He currently serves on the board of director/advisors of a number of high technology firms, is a member of the Business Journal's "Forty Under 40" list, and is also a past finalist for Inc. Magazine's Entrepreneur of the Year.
"SalesKatz gets it. They take sales intelligence to the next level by automating what I teach—finding information and turning into actionable knowledge," said Richter. "I am very excited to be a part of the SalesKatz team and look forward to making history in bringing SalesKatz to the market."
About SalesKatz
Privately held with world headquarters in Cleveland, Ohio, SalesKatz has dramatically refined the sales process by utilizing advanced search engine techniques that align sellers and buyers in B2B selling situations. Founded in 2011, the company develops software applications that help salespeople align their product attributes with potential buyers needs by scouring the web for information utilizing their proprietary search engine. To find out more about SalesKatz B2B sales intelligence application, visit: http://www.saleskatz.com/.