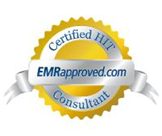 The certification content was superior to other programs I have pursued and the entire guidance team at EMRapproved has really given my business a great start!
Chicago, IL (PRWEB) March 14, 2012
EMRapproved.com, the industry-leading healthcare IT resource, has expanded their newly branded Technology 4Med+™ Channel program by partnering with the nationwide ASCII membership organization. In recent attendance at the ASCII Success Summit in Florida, EMRapproved introduced its self-paced online Healthcare IT Certification courseware and healthcare marketing programs to the skilled IT members.
With an estimated 50,000 new healthcare IT (HIT) professionals needed to help medical providers make the shift to electronic health records and meet Meaningful Use requirements, EMRapproved has invested significant time and resources to help bridge that gap between the IT and healthcare communities while addressing the economic downturn in the overall service industry by further enhancing the benefits of their free resource site to end-users.
"I feel the assistance provided through the EMRapproved 4Med+™ program has added tremendous value to the launch of my new healthcare IT consulting business. Their certification content was superior to other programs I have pursued and the entire guidance team at EMRapproved has really given my business a great start!" says Carol S. Hudson, RN, owner of EHR/HIT Consulting, LLC in Citrus County, Florida.
The EMRapproved Certification program empowers IT groups to better understand the needs of the medical community with completion of industry courses in Ambulatory Practice Workflow, HIPAA Compliancy and more. Practices in need of HIT assistance for their EMR system can schedule assistance from one of the 4Med+™ certified teams, search the nationwide HIT consultant list on EMRapproved.com or call the toll-free assistance line at (800) 671-1028. Certified HIT consultants are available to provide unbiased and professional guidance, managed services product sales and IT support - both before and after EMR implementation.
About EMRapproved.com
Leading EMR consulting, vending and education resource EMRapproved.com offers unbiased and independent research and EMR reviews to help medical practices and hospitals select the right EMR for their needs. Their online HIT University program helps educate IT professionals to support EMR systems and offers a directory of certified HIT companies. To learn more, visit http://www.emrapproved.com.
About The ASCII Group
The ASCII Group, Inc., headquartered in Bethesda, Maryland, was established in 1984, with additional offices in Canada and the UK. With more than 2,000 members and system wide end-user sales of approximately $10.5 billion, ASCII is the largest paying community of independent computer solution providers in the world. ASCII provides technology tools, products and services to help independent information technology resellers increase profits, reduce costs, and grow their respective businesses. For more information, please visit http://www.ascii.com or http://www.asciievents.com for more information on the ASCII 2012 Success Summits.