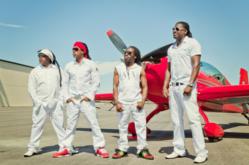 In 2012 we're looking to do bigger things with our music by reaching out and lending assistance to families in need. Just think what would this world be like if we all helped one another reach our potential. That's what Bonafide stands for." - Jr. Rootz
Las Vegas, Nevada (PRWEB) March 14, 2012
Critically acclaimed reggae band Bonafide will be releasing it's highly anticipated double album "SOLD OUT" very soon. The double album containing 24 tracks will feature the #1 single "Leaving Come the Morning," ft. Vybz Kartel. This first single hit the Jamaican charts and quickly climbed to #1, holding that spot for 4 weeks. The Marley bloodlines grace this new album with Damian "Jr Gong" Marley on the song "Start & Stop." Damian "Jr Gong" Marley's impressive reggae resume and his work with the rock super group Super Heavy, which featured Mick Jagger, solidifies the professional buzz surrounding this track. The song "Jah Blessing" will feat Sean Paul. Sean Paul's musical triumphs in Jamaica & the USA will prove this song to be a worldwide message. Additionally, "Shake dat Bumpa" ft. Busy Signal will be released and hitting clubs soon, along with the smooth sound of "I Wanna be the One" ft. Etana which is now climbing the Jamaican charts! Final mixing on the double album was done by James "Bonzai" Caruso who is a 4 time Grammy winner. "Bonafide has written so many big tunes! Great songs, nice vibes and some of the best people I've ever worked with. Always a blessing to be with them in the studio, and everywhere else for that matter! Bless Up!" – James "Bonzai" Caruso
ABOUT BONAFIDE:
Bonafide consists of four members, Jr. Rootz (vocals/drums), Bass Wayne (bass/vocals), Ricky Dread (keyboards/vocals) and Kerry Ranks (DJ). The band hails from Montego Bay and Clarendon though currently residing in Las Vegas, NV. Bonafide loves its adopted home town and shows this by giving proceeds of each album and or track sold in Nevada to benefit the Help of Southern Nevada Organization. Bonafide & The Amibug Group have teamed up to take over the world by taking reggae music to places it's never been before. "In 2012 we're looking to do bigger things with our music by reaching out and lending assistance to families in need. Just think what would this world be like if we all helped one another reach our potential. That's what Bonafide stands for. If my life's purpose is just to make me happy, then it's a wasted life." – Jr. Rootz.
ABOUT THE AMIBUG GROUP:
The Amibug Group is a private equity group that owns, operates and or partners with several companies. The Amibug Group has created more than 250 jobs since 2008. "The Amibug Group's goal is to assist Bonafide's sound to reach the masses of reggae and main stream fans all over the globe. "These guys deserve it and I know the fans will embrace all their hard work." Scott Tracy Amibug Group Vice President.
Contacts
Bookings: Scott Tracy scott(at)bonafidesounds(dot)com (702) 501-3490
Press inquiries: Andy Gil andygil(at)g6mediagroup(dot)com (702) 884-9834