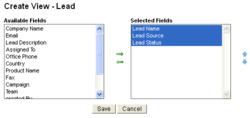 "This new release includes the ability to view a system generated waterfall chart, customize recent activity view and data columns to display various details." - said N.D. Reddy, founder and CEO of SutiSoft Inc.
Los Altos, CA (PRWEB) March 13, 2012
SutiSoft Inc., a trusted provider of hosted and enterprise solutions today announced the release of SutiCRM 5.2, its on-demand solution for effectively managing customer relationship data with additional customization capabilities for all users of the solution. The new release improves the ability to track all activities being performed based on the user's role and provides a quick view into actual revenue numbers.
New Features Include
Recent Activity Views
Global, geography, territory and region administrators can easily track activities based on date, product, customer, and other filters.
Customize Columns
Columns used to display prospects, campaigns, leads, accounts, contacts, opportunities, quotes, orders and invoice details can be easily customized to meet user requirements.
Waterfall Dashboard
View details of a waterfall chart in the form of a dashboard. Global, geography, territory and region administrators can customize the dashboard using filters based on their role.
SutiCRM is available in multiple versions: Free, Small Business, Corporate and Enterprise. Pricing starts at $9.95/per mo/per use up to 30 users. Visit http://www.suticrm.com for more info.
About SutiSoft Inc
SutiSoft Inc. is a privately held company founded by N.D. Reddy, a successful Entrepreneur with over 30 years of experience in both the Hardware and Software industry as a Founder, and CEO. The Company's leading edge enterprise/SaaS application software products range from business productivity solutions such as Electronic Signature, Expense Management, Document Control Systems, Governance, Risk and Compliance, Security Solutions and others. The company's products are developed using Java, Flex, HTML 5, AJAX and other cutting-edge technologies which allow SutiSoft to retain its core values which are Simple, Scalable, Secured, and Seamless. Headquartered in Los Altos, California USA, SutiSoft has offices in Northern California, India, Germany and Japan. Additional information is available at http://www.sutisoft.com.