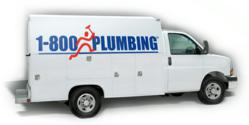 "1-800-PLUMBING, its not just memorable, its un-forgettable"
Greenwood, SC (PRWEB) March 13, 2012
1-800-PLUMBING is a simple and powerful concept and a great competitive advantage. In addition to the number, 1-800-Plumbing Inc provides many tools and support to help make this number an integral part of your company's advertising and marketing. For companies focused on getting maximum return on the investment they put into marketing and advertising dollars, 1-800-PLUMBING is a great solution.
Jimmy and Wayne Mathis of Mathis Plumbing & Heating Co., Inc is one of the latest independent plumbing companies to utilize the power of the 1-800-PLUMBING phone number to enhance the effectiveness of marketing and advertising. To Mathis Plumbing & Heating , "green" means safe, healthy homes and the peace of mind knowing your heating, cooling , and plumbing systems are the most efficient available and will help you save money and protect our environment by using fewer natural resources. Now, to make it easier for their customers to get in touch, Mathis Plumbing & Heating is using "1-800-PLUMBING" as their number.
Mathis Plumbing is a very progressive company. They are always looking for innovative green products such as tankless hot water heaters, heat pump water heaters, geo-thermal heating and cooling systems, epoxy pipe restorations, Trenchless sewer line replacement, low flow toilets, and easy water filtration systems.
Mathis understands that in today's busy world that customers do not have time to wait for service. In most cases, Mathis can provide same-day service by clean, uniformed technicians that are prepared to take care of all your plumbing, heating, air, and drain cleaning needs. Mathis provides service to residential, commercial, and industrial customers.
Mathis Plumbing is the place "Where value exceeds customer expectations" Rest assured when you call Mathis Plumbing & Heating Co., you'll get timely, quality and guaranteed service. Ralph Mathis established the firm's reputation for reliability, quick response and meticulous attention to detail. Jimmy and Wayne Mathis, co-owners , say "A family company reflects a personal commitment and pride unlike any other business. Decisions made affect not only the current reputation of your family name, but also past and future generations. The foundation of Mathis Plumbing and Heating Company is very strong due to the work ethic and integrity of our father , Ralph Mathis." Mathis Plumbing & Heating has been honored by the Small Business Administration, Greenwood Chamber of Commerce, and has also received the "Reader's Choice Award"
Mathis Plumbing & Heating is located at: 1321 Reynolds Street Ext., Greenwood, SC 29649 For more information go to: http://www.800plumbing.com/plumbers/greenwood-sc-plumber Mathis Plumbing & Heating Company Inc (March 1, 2012) is one of many plumbing companies to utilize smart marketing strategies by adopting the vanity number "1-800-PLUMBING" into their repertoire of marketing strategies.
Alan Cline, 1-800-PLUMBING INC., Headquarters P.O. Box 8025, Surprise, AZ 85374 Tel: 1-800-758-6298 http://www.800plumbing.com