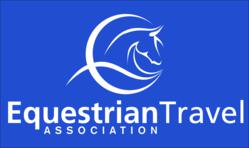 Los Olivos, CA (PRWEB) March 15, 2012
The Equestrian Travel Association (ETA) - a professional association created to raise awareness of and promote the equestrian travel industry - is proud to announce the launch of its new definitive online guide to equestrian travel.
About The Equestrian Travel Guide
Created for horse lovers everywhere – no matter what level of skill or education – the new Equestrian Travel Guide offers valuable information on a wide range of equestrian travel experiences worldwide. The mission of the guide and it's related social media outreach is to raise awareness of horse-related travel businesses that abide by a set of standards regarding horse care and customer service.
With business members worldwide who offer a variety of getaways at multiple price points, visitors will be able to find an assortment of destinations and activities that cater to a variety of travel needs, including those of families, singles, couples or groups. What's more, the Equestrian Travel Guide is a great educational resource for those wanting to learn more about equestrian travel and horseback riding in general.
About The Equestrian Travel Sweepstakes
The Equestrian Travel Sweepstakes, running from March 15th through June 15th 2012, offers horse and travel lovers the opportunity to enter in one of three ways for a chance to win one of three spectacular equestrian getaways:
1. A 2 ½ day immersive dressage experience for the winner and one guest at Charlotte's Bredahl's California Dressage Retreat on Charlotte's gorgeous ranch in Buellton, California.
2. A Romantic Ride in the Green Mountains for two, including a 4 day/3 night stay at the stunning and secluded Mountaintop Inn and Resort in Chittenden, Vermont (sponsored by Active Travel).
3. A Buenos Aires Horse Adventure, featuring a 3 day/2 night personalized horse adventure for two in exotic Buenos Aires, Argentina.
US Residents over the age of 18 can enter by simply submitting their equestrian vacation prize preference on Facebook (Facebook.com/EquestrianTravel), Twitter (twitter.com/EquineTravel) or the new Equestrian Travel Guide website, where the official rules are posted.
About The Equestrian Travel Association (ETA)
Founded in 2011, the Equestrian Travel Association (ETA) is an international professional association representing equestrian travel vacations, outfitters, camps, and clinics. From guided horseback riding tours to equine transportation providers the ETA works with equestrian businesses around the world. The ETA has established the highest standards in the equestrian travel industry that require members to conduct business according to a set of professional guidelines; including superior horse care and exceptional customer service.