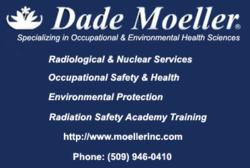 Richland, WA (PRWEB) March 13, 2012
Award-winning radiation safety firm Dade Moeller announces that the U.S. Department of Energy (DOE) has approved the Company's 3-year mentor-protégé agreement with Ameriphysics, LLC, under the Department's Mentor-Protégé Program. This is Dade Moeller's first mentor-protégé agreement.
"We are very pleased to be joining DOE's Mentor-Protégé Program and to be doing so with a Service-Disabled Veteran-Owned Small Business that shares not only our dedication to the field of health physics but also our commitment to the principles of quality and integrity," remarked President David McCormack. "Since our founding, we have earned our reputation for excellence within the DOE complex, and we look forward to leveraging our experience to support Ameriphysics' continued success."
Based in Knoxville, Tenn., and founded in 2008, Ameriphysics provides full-service, licensed radiological, environmental, and waste disposal services for federal and commercial clients working in a variety of nuclear and environmental settings. Owned by Tom Hansen, a Certified Health Physicist, certified Project Management Professional, and service-disabled veteran with more than 23 years of nuclear field experience, Ameriphysics' record of successes confirms it has the experience, resources, and capabilities necessary to complete complex projects on time, within budget, and in accordance with applicable regulatory standards.
This mentor-protégé agreement is a strategic one for the Company, as it enables expanded service offerings and will boost its focused growth in Oak Ridge, Tenn. The agreement also furthers Dade Moeller's long-standing commitment to "giving back" by sharing its lessons learned for success, fostering growth in the field of health physics, and boosting the business achievement of a service-disabled veteran.
ABOUT DADE MOELLER: Dade Moeller provides a full range of professional and technical services to federal, state, and commercial clients in support of nuclear, radiological, worker safety, and environmental operations. The Company has been recognized as the 3rd fastest-growing environmental consulting firm in North America, the Silver Medal winner for environmental business achievement, and one of 100 best companies.