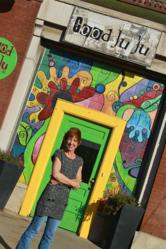 This is the last thing we expected. It's one of the best problems to have.
Kansas City, MO (PRWEB) March 15, 2012
Good JuJu, a "First Friday Weekends" antique and vintage shopping venue is relocating just to solve a parking problem. Having one of their vendors as a guest on The Nate Berkus Show, along with winning awards for "Best Antique Shop in Kansas City" by Pitch Magazine and recently awarded Flea Market Style Magazine's list of "Best Vintage Shops from Coast to Coast" has fueled their growth. This popularity created a problem they never expected to have.
"This is the last thing we expected. It's one of the best problems to have" says owner, Trish Moore. As the first event shopping venue in the historic West Bottoms area of Kansas City, Good Ju Ju has seen phenomenal growth in a down economy due to the popularity of repurposing, recreating and finding alternate uses for antique furniture, collectibles, household and decorator items.
The old location had very little parking and neighboring businesses couldn't handle Good Ju Ju's overflow of cars needing a place to park. Customers parked where they could. But the nearby businesses needed their own parking and eventually called tow trucks to haul off any car they saw a customer get out of who didn't come into their store. "Some customers were frantic, as you would expect", says Trish. She decided she had no option and had to fix the problem.
Her best option was to take the neighbors out of the equation, so she did. Trish discovered a building available, just a block away, where a commercial printing company used to be located that had over 200 parking spots. She jumped at the chance and now has a shop similar in square footage, but with tons of parking. "An upgraded electrical system is another perk. The old building constantly blew fuses. At our last event, the entire building was without power for a week. We ran our shop on two generators for the entire weekend. That's what you get with a 150 year old building", says Moore.
How did she create this problem of too many customers and no parking? Word-of-mouth marketing. Selling quality goods at reasonable prices makes customers want to brag about their purchases. They tell their friends who check out Good Ju Ju's website. Then they go to Good Ju Ju's Facebook page or sign up for email newsletters Good JuJu starts a conversation with them and spreads the word of upcoming events.
"We're not an antique mall or antique store, and we're nothing like a periodic antique show. We're a vendor-run store with a group of dealers who are doing what they love and are passionate about it. Many do this full-time", says Moore. "On the first Friday of every month, anywhere from 100 to 150 people are waiting to get in. The deals are that good and the store is that fun".