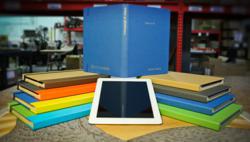 Award-winning design is now available for Apple's newest iPad.
San Francisco, CA (PRWEB) March 13, 2012
DODOcase announced today that their original, award-winning design is now available for Apple's newest iPad and available in the Classic DODOcase style, with a choice of four color-linings, as well as two entirely new collections both inspired by the California landscape. DODOcase Essentials offers four solid exterior colors options, while the DODOcase Spring / Summer 2012 collection boasts four vibrant two-tone options. Straight from their San Francisco bookbindery, DODOcase is also launching a wider array of personalization options allowing customers to foil stamp lettering in either black or gold, and in three distinct locations.
The new DOODcase collections offer statement-making color combinations and fresh ways to outfit the iPad for the warm weather seasons ahead. DODOcase has designed two collections that offer vivid colors paired with soft neutrals through sleek, and classic designs, but with a touch of the bold and edgy. Inspired by the California landscape that DODOcase calls home, the DODO Essentials line boasts an eco-friendly bamboo tray combined with a striking array of exterior cloth options. Drawing from the colors of the Essentials line, but adding a dramatic splash of color through the spine and interior, the DODOcase Spring / Summer 2012 collection is for the bold and adventurous. As always, the black exterior offered by the DODOcase Classic is timeless in its simplicity, inspired by the artist journals of years gone by, and a winner for all seasons.
"The new iPad gives us another opportunity to continue our support and preservation of bookbinding, while allowing us to introduce an entirely new facet of our business with advanced personalization options and our Spring / Summer collections" said Patrick Buckley, co founder and Chief DODO of DODOcase. "Two years after launching DODOcase, we have built a full bookbinding operation and woodshop in San Francisco. As always, we are proud to offer crafted artisanal products that help connect tradition and technology for our customers."
The DODOcase Classic is available with a choice of Red, Green, Charcoal, and Sky Blue lining for $59.95. The DODOcase Essentials line is available in Granite, Meadow, Tahoe and Sand for $69.95. The Spring / Summer 2012 collection DODOcase is available in Granite/Poppy, Meadow/Lake, Tahoe/Sunrise and Sand/Earth for $79.95. Personalizing your DODOcase with custom text foil stamping is now available with three locations to choose from, including the spine, front center or bottom right, each for $12.95. Monogramming of up to three initials remains available for $9.95. Every DODOcase comes equipped with a magnet to take full advantage of the iPad's sleep/wake functionality, and each are now available with a camera hole option for an additional $4.95. All DODOcases are available for purchase now at http://www.dodocase.com.
# # #
ABOUT DODOCASE:
The DODOcase philosophy is simple, manufacture things locally and help keep the art of bookbinding alive, and off the extinction list where the namesake Dodo bird resides, by adapting it to a world of e-readers and tablets. DODOcase quickly rose to popularity following their launch alongside the iPad in April 2010. Overwhelming consumer response led to notable critical acclaim and the eventual expansion of their San Francisco operation to include an in house Bookbindery and woodshop. Hand crafted in San Francisco using traditional bookbinding techniques, DODOcase has succeeded in creating a case unparalleled in style and quality. DODOcase has steadily expanded their product portfolio to include a case for the Kindle 3, Kindle Fire, a collaboration with local San Francisco artist Rex Ray, as well as Jenny Beorkrem of Ork Posters notoriety, and Curtis Kulig, noted NY artist. DODOcase also has an ongoing collaboration in partnership with J.Crew. DODOcase also makes the BOOKback which offers a familiar, book-like skin for the iPhone4 or iPad2, the latter of which is compatible with the Apple SmartCase. Follow us on twitter @DODOsays, or on Facebook, and for more information please visit http://www.dodocase.com.