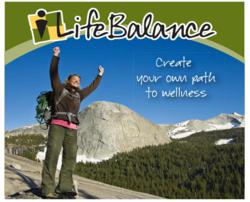 "We all know how hard it can be to get fit and stay motivated on our own. LifeBalance Wellness Challenges are a fun and effective way to increase a workforce's physical activity and manage their weight."
Portland, Oregon (PRWEB) March 14, 2012
LifeBalance, which offers turnkey, wellness and health promotion programs for companies and their employees, has seen the demand for its workplace wellness challenges grow exponentially over the past two years. Challenges typically involve healthy engagements between employees, either individually or as part of a team.
Since 2010, nearly 30,000 people in five states have completed 313,000 hours of exercise, taken 2 billion steps and lost 21,000 pounds by participating in employer-sponsored LifeBalance Wellness Challenges. Amongst companies that have included a community involvement component, participants have donated more than 3,000 hours of their time to community service.
"The World Health Organization has identified lack of physical activity as the fourth highest preventable cause of death in the world," explains LifeBalance Director Dave Miller. "Yet we all know how hard it can be to get fit and stay motivated on our own. LifeBalance Wellness Challenges are a fun and effective way to increase a workforce's physical activity and manage their weight."
Companies recognize that helping employees stay healthy is good business. Judy Samples is the Senior Director of Human Resources at Providence Health & Services – Oregon Region. She has implemented multiple LifeBalance Wellness Challenges, including a recent 'Healthy Holidays Challenge' that included a community service component.
"As a non-profit health care organization that is committed to serving the local community, we especially appreciated the community service aspect," said Samples. "To see our employees not only working to improve their own health but also donating their time to local charities to improve the lives of others was truly rewarding."
According to LifeBalance's Miller, the social accountability and support that comes with a wellness challenge can be highly motivating for participants trying to make a change or reach a specific goal. In Miller's words, "a little cheerleading can go a long way." Companies benefit in turn with healthy employees who are happier, more productive and who visit the doctor and call in sick less often.
Miller offers five tips for organizations on planning and implementing a successful wellness challenge in the workplace:
1. Involve the entire workforce and their families. Include upper level management to set the tone that it is important for everyone to participate.
2. Incorporate team-based challenges that build camaraderie and morale. Offer creative incentives and prizes that also revolve around health and wellness so the overall message of health is not lost in the reward
3. Ensure consistent promotion behind the event to engage as many employees as possible. Use email blasts, promotional posters, onsite registration events, etc.
4. Make it fun and easy for employees to get and stay involved. For example, give them an online platform to log activities, record number of steps taken, track weight loss, etc.
5. Show a commitment to long-term wellness, i.e., establish a wellness calendar and give employees a chance to participate in company-sponsored challenges throughout the year.
About LifeBalance
Since 1996, LifeBalance has offered turnkey, wellness and health programs designed to encourage participants to make healthy, lasting lifestyle changes. The company services over 3,500 organizations and approximately 500,000 members across seven states.
At the employer level, the Classic LifeBalance Program provides companies with a custom branded program that offers benefits from more than 10,000 businesses within 70+ recreational, cultural and wellness categories as well as a variety of online wellness tools to appeal to a wide range of clients, employees and families.
At the Health Plan level, the Classic LifeBalance Program is bundled into the plan design to provide a true market differentiator and value added component for health plan members that emphasizes active lifestyle choices for improved health and well-being. LifeBalance Wellness Challenges are customized programs that make it easy and cost effective for employers to implement wellness challenges while receiving unmatched client and participant support. Challenges include: Step It Up Walking Challenge, Health Adventure Activity Challenge, Healthy Commuter Challenge, 5-5-5 Fitness Challenge, and the Healthy Holidays Weight Maintenance Challenge.
Additional services include LifeBalance Rewards Service (incentive design and fulfillment), pedometers, wellness planning services and a LifeBalance speakers bureau.
For more information, visit http://getLifeBalancetoday.com
More Client Testimonials
"West Coast Bank offers LifeBalance Wellness Challenges in an effort to encourage employees to incorporate physical activity into their daily routine. We ran our first challenge in the fall of 2010 and quickly decided to offer all of LifeBalance's Challenges throughout the year. Not only are the challenges affordable and easy to implement, but our employees have truly embraced them! It's wonderful to see staff members encouraging each other to make healthy decisions and praising one another for their efforts. A component of our company's mission is to provide a rewarding environment for our employees and these LifeBalance Wellness Challenges have helped us to do just that." – Laurie Ferris, CBP, CCP, Senior Vice President & Compensation & Benefits Manager – West Coast Bank
"LifeBalance Wellness Challenges have become an integral part of Providence Oregon's efforts to encourage employee health. The challenges have been highly successful and continue to grow in popularity. We started out with just one week-long walking challenge and are now running four different fitness and activity challenges throughout the year! Our employees have given us amazing feedback attesting to their overall improved fitness levels and it's been great to see how much fun they've had with their colleagues along the way. Additionally, from customizing challenge webpages to fit our needs to providing great customer service, the LifeBalance Program staff has worked with us every step of the way to make sure these competitions are fun and successful. We plan to continue running a variety of LifeBalance Wellness Challenges for years to come!" – Tammy Lundervold, Coordinator of Fitness Services, Providence Health & Services – Oregon Region