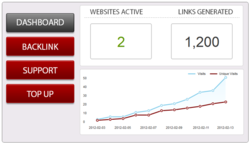 SEO Software Made Simple
Toronto, Ontario (PRWEB) March 15, 2012
SEO ranking is the Holy Grail for any website in the Age of Search. Various techniques exist like sponsored links, targeted ads and keywords but the simplest and easiest way is through building up backlinks – the process of linking to another website and getting them to return the favor. Not only does it drive traffic but it also improves a sites recognition and notability.
It is an emerging science and one that can consume the webmasters days if they have to go through the process manually. Help is at hand as SEOstring.com rides to the rescue.
The SEO software takes all the guesswork out of SEO and turns backlinking into an affordable, easy to use solution to control a websites internet presence.
Easy to use and ideal for the novice and experienced SEO user, SEOstring.com is built on a huge network of over 600 affiliate blogs and websites – users links are posted on verifiable, legitimate websites which improves their standing and ranking on Google, Bing, Yahoo, AskJeeves.com and other search engines that build their rankings based on backlinks and traffic.
From as little as $1 a day, websites are matched with similar niche sites so both can benefit from the easy backlinking process. The information is fed into the SEOstring.com software which will post the links automatically. Previous methods of backlinking which provided up to 1000 links a day devalued a sites ranking by as much as 95% as the search engines got better at recognizing spam.
The key to successful SEO and search engine rank is authenticity – quality over quantity – and SEOstring.com makes this easy, automating the process of link building and allowing the webmaster or page owner to devote their time to more important matters – running their business.
SEOstring.com also allows the user to input their own keywords to further personalize their site recognition experience and they can gain access 24/7 to pivot and take advantage of any trends or other events quickly and easily.
The science and theory behind backlinking and search engine ranking are evolving all the time so use the knowledge and expertise of SEOstring.com to get you into the game and rising up the rankings – cleanly and organically.
For further information visit our website at http://www.seostring.com and connect with us on social media at SEOstring.com on Facebook and @seostring on Twitter.