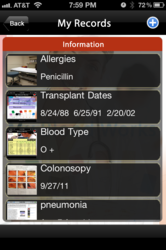 Filling out medical forms is a breeze with "My BloodWorks" APP. It's Awesome" say Kristin who depends on My BloodWorks.
(PRWEB) March 28, 2012
Going to a new physician or a medical center for example, is stressful enough. There are lots of forms to fill out and they ask about a patient's medical history with dates, along with medications. Most people have some sort of medical history and many people are on medications. "My BloodWorks" users don't have to worry about remembering all medical events, medications and much more. Patient medical records can get very detailed and full of words only a physician understands. A user doesn't need all the details, just the basic ones that pertain to what a physician needs to know. For example: surgeries, allergies, blood type, family history of diseases, and dates for them can be stored on "My Bloodworks" In the APP, medications get listed on their own screen with a large area for details such as dosage, mg, time to take or reason for taking, etc.
"My BloodWorks" creator Glen Ogle says the APP does a whole lot more including tracking APP users blood pressure, pulse, weight (optional) and height that have corresponding graphs. A "My BloodWorks" user can track blood tests, with an easy to add blood values screen and the ability to add as many blood values an APP user wants and compare them side by side with previous blood tests.
The screen for medication is a physicians dream with large description field for details. The emergency phone number screen will dial out right from that screen. Keep all appointments on "My BloodWorks" APP for easy viewing. GOGLE LLC is an advocate for patients rights.