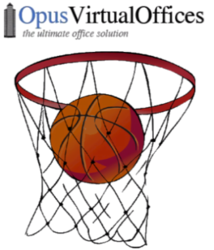 "I'm a huge NCAA fan in March and like to see underdogs triumph over the big boys. And Opus is offering its clients a waived set up fee promotion so they too can compete successfully against larger companies." - Yori Galel, CEO, Opus Virtual Offices.
Boca Raton, FL (PRWEB) March 13, 2012
March Madness is here, making this the sweetest time of year for college hoops fans. This year, it's also a sweet time for businesses large and small to step up their game. Opus VO, one of the leading providers of virtual office services, is offering a March promotion that's a slam dunk. New clients who visit the Opus website and enter the promotional code Final Four will have set up fees waived, setting them up for savings that will help them excel against the competition.
"I'm a huge NCAA basketball fan every March. I have my bracket and am ready to go," says Yori Galel, CEO, Opus Virtual Offices. "I don't pick the top seeds because it's great to see an underdog compete with the big boys and triumph. It's the same in business. So Opus is tying in its special March promotion with the excitement of March Madness to help its clients compete successfully against the business big boys."
68 teams start the tournament, and are quickly pared down to a Round of 64, a Sweet Sixteen, and then a Final Four competing for the championship, held this year in New Orleans. This 'Big Dance' is the ultimate platform where talented young teams with lower rankings are given the opportunity to meet the top seeds on a level playing field.
Similarly, Opus VO gives its clients an assist with a perfect platform to compete with the big players in the business world. The Opus virtual office solution utilizes advanced technology so flexible it eliminates the need for costly physical office space. Businesspeople have no reason to tie themselves down to increasingly expensive and unnecessary real estate.
Without leaving home, home based entrepreneurs, professionals, consultants, or contractors can acquire prestigious corporate mailing addresses with dedicated phone and fax, impressing their own customers while keeping home addresses private.
Larger businesses can acquire multiple office addresses regionally or nationally, creating a powerful image without leaving headquarters. Opus Virtual Offices provides all clients with call transferring and voicemail to email conversion direct to pc, tablet, or smartphone. Professional, live US based receptionists take calls and messages, completing the package. All for the nominal fee of $99 a month.
And in honor of March Madness, all set up fees are waived when a new client enters the promotion code Final Four on the Opus website http://www.opusvirtualoffices.com