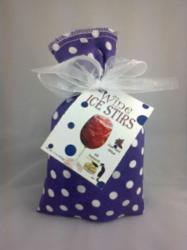 A great addition to the A list of gifts
Atlanta, GA (PRWEB) March 15, 2012
It's a gourmet marriage that was years in the making. A Partnership that was made for social media.
Old World Gourmet has joined the amazing "A" list at Goodies for Gifts.
Goodies founder Lynn Steinberg has welcomed 9 members of the OWG frozen drink lineup to the Goodies for Gifts delicious directory. Check them out at goodiesforgifts.com/vendors/oldworldgourmet.
OWG has listed products 9 initial products representing their various product lines including the bitch bags, wild side bags, champagne freeze mixers, cool freeze bar mixers, and vino by the slice bread mix.
Check out OWG and the other talented "foodtrepreneurs" - bakers, chefs and entrepreneurs who started their businesses in their local communities.
Party, wedding, holiday, gift, or just a get together. Old World Gourmet has the perfect addition
Old World Gourmet is located in Hiram, GA and has been producing frozen wine and liquor mixes for over 10 years. Our products can be found in retailers in all 50 states and on the internet. Visit our web site for the complete lineup and be sure to visit the "How to mix page" for instructions and our customers favorite product pairings.