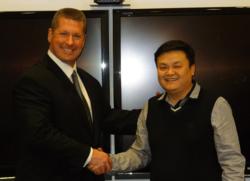 We are excited about Heng Ling venturing with us to offer these healthy aging vacation packages—creating a new opportunity for us to take our renowned proactive medical approach to Asia.
Las Vegas, NV (PRWEB) March 13, 2012
Heng Ling Biological Technology—a China-based, frontrunner firm centered on healthy aging—is initiating the first high-level, seven-day medical vacation package that introduces Cenegenics® Medical Institute's customized, proactive programs to Asia, announced the global leader in age management medicine. The medical vacation package forms a road map for Heng Ling, under the direction of its CEO Buffet He and Vice President Tina He, to forge a strong presence of optimized health in China and its outlying areas, such as Macao, Hong Kong and Taiwan.
Twice a month, a group of approximately six patients will fly from China to Los Angeles, where they will undergo initial diagnostics (blood draw, lifestyle questionnaire) and tour the Beverly Hills and Hollywood areas. From there, the group flies to Las Vegas to tour the Cenegenics facility and begin a highly comprehensive Executive Health Evaluation, which captures the entire picture of what's happening inside the body and forms a metabolic, hormonal and physiologic baseline. The full-day evaluation—using in-depth diagnostics, Cenegenics' gold standard exercise assessment and even cognitive fitness testing—will be broken up over a three-day period, allowing the group time to sightsee in the Entertainment Capital of the World.
"We are excited about Heng Ling venturing with us to offer these healthy aging vacation packages—creating a new opportunity for us to take our renowned proactive medical approach to Asia. Since most of the medical facilities in China are government run, our Cenegenics protocols are ideal for what China considers 'salon' treatment centers, which are established throughout the country," Cenegenics President/CEO John E. Adams said.
As a salon treatment center, Heng Ling treats the higher echelon in China—the upper 10% earners, such as successful business/political people or entertainers and their spouses. Unlike Cenegenics whose patients are predominately males, 70% of Heng Ling's clients are female.
"Heng Ling established a centralized, English-speaking staff in China to ensure the assigned treatment plan is followed and to underscore the one-on-one physician/patient relationship Cenegenics is known for. Heng Ling's staff will act as translators, facilitating the three-way relationship among patients, Cenegenics and Heng Ling," Felix Alanis said. Alanis is the Business Development Director for Heng Ling USA.
For more information about Cenegenics, please visit them online, where you can register for quick access to the online Cenegenics Healthy Aging Kit: informative Guide to Healthy Aging, Executive Summary and media excerpts.
Visit Cenegenics' Facebook Fan page, follow them on Twitter and get patient celebrity blogs, health tips and news on their portal site, CenegenicsPost.
To schedule an interview, please contact Ann Castro, Cenegenics Director of Media Relations: 702.953.1588.
About Heng Ling Biological Technology
Established in 2008, Heng Ling Biological Technology is headquartered in Guangzhou, China. Their mission is to forge a path of sustainable development via efficient and modern management, promoting the health of China's booming medical beauty business and instilling in every customer that "forever young is not a myth." Working with the world's leading research institutions, Heng Ling continues to establish close strategic alliances that provide safe, effective products, which has earned them a title as "The backbone of China's medical beauty industry."
About Cenegenics
Cenegenics® Medical Institute has forged a paradigm shift in medicine, developing a proactive medical approach for optimized health hailed as "next generation medicine" and garnering worldwide media attention. Cenegenics has 19 centers with others opening in the near future: Las Vegas, Nevada (headquarters); Charleston, SC; Boca Raton, Florida; Dallas, Texas; Arlington, Texas; Atlanta, Georgia; Chicago, Illinois; Beverly Hills, California; Philadelphia, Pennsylvania; Washington, DC; New York City, NY; Tulsa, OK; Jacksonville, FL; Atlantic City, NJ; Houston, TX; Denver, CO; Scottsdale, AZ; Boston, MA; Miami, FL. Cenegenics serves over 20,000 patients globally—2,000 are physicians and their families.
###