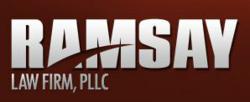 Minneapolis, MN (PRWEB) March 14, 2012
Every year, Minnesota Lawyer takes the time to honor a select number of professionals (only 25) whose leadership, success, and dedication to clients have proven their worth within the legal branch of the professional field in which they serve. After thorough assessment of the state's hundreds of lawyers, the top 25 are chosen and recognized for their professional accomplishments. This year, making the list was none other than Ramsay Law Firm's Chuck Ramsay.
Under tedious review, officials of Minnesota Lawyer take heed to assess the involvement that attorneys in the field have played in major cases throughout the state, sometimes even across the nation. Included in their review are aspects of leadership, transactional services involving the public, excellence in corporate interactions, and any major newsworthy events that may arise as the lawyer continues to diligently employ legal tactics throughout his/ her practice. Nominations for this prestigious recognition are made by judges, personal clients, bar groups, and peers, i.e. other attorneys in the field. Among those eligible for recognition are professionals practicing in any of the following fields: public service, in-house legal departments, litigation, intellectual property, and criminal law.
With multiple areas of practice and a host of factors to consider, there is much to be said about receiving the recognition of Attorney of the Year. Not just anyone will be awarded such an honor; in fact, only a select few are recognized at all. Therefore, Mr. Ramsay's recognition has been highly applauded by friends, family, peers, clients, community members, and the like. While the work that led to this honor may have come naturally for Attorney Ramsay, it did not come easily, as hours upon hours of legal service and professional assistance were provided on a regular basis to clients throughout the state of Minnesota, in particular Minneapolis. Chuck routinely takes time out of his schedule to provide professional education to other attorneys in the field of criminal law. He has played an integral role in his affiliations with the Consolidated Source Code Trial Team, and the efforts he has dedicated to the legal community are virtually limitless.
For more than a decade, Mr. Charles Ramsay has vigorously defended the criminally accused of DWI and his efforts have clearly paid off. The Minneapolis DWI attorney has appeared before Minnesota's state appellate court and the Supreme Court in approximately 75 cases, many of which have been publicly recognized and published for their groundbreaking trial results. In 2007 and 2008, Chuck was recognized as among the top 40 criminal defense lawyer in the state, and his accolades have continued to rise, as he is now considered to be one of the state's top 25.