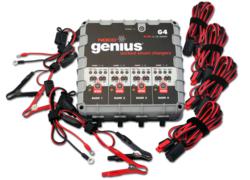 With 4 independent battery banks, the G4 is the best way to keep all of your vehicles maintained at the same time.
Cleveland, OH (PRWEB) March 13, 2012
The NOCO Company, producer of The NOCO Genius line of innovative charging systems, recently released their latest model of smart battery chargers. The G4 is a multiple bank battery charger capable of charging up to four batteries simultaneously.
The G4 utilizes the same clean design and features of the multi-purpose Genius charger line, but is ideal for consumers needing to charge multiple batteries at one time. Each battery bank is completely electrically isolated allowing different battery chemistries and battery voltages to be charged with each bank. The G4 comes with an integrated AC Cord Management System and Detachable Charging Cords to provide a clean and mountable installation. The G4 AC cord can be routed out of any side of the charger, and excess cable can be stored in the enclosure's coil system. The Detachable Charging Cords allow the user to remove the output cables from unused banks, and easily add them back when needed. Whether utilizing all the battery banks, or just a few, the G4 eliminates unused charge cords preventing them from getting in the way and creating a "tripping" hazard.
Staying consistent with the NOCO Genius product line, the G4 is powered by the NOCO VosFX Processor. The VosFX Processor is a revolutionary smart processor utilizing sophisticated levels of intelligence to alter the charge process, based on organic feedback from the battery, to extend battery life. The VosFX Processor quickly and efficiently makes decisions on how to charge the battery without risking user safety or damage to the battery
The G4 is best for small battery applications from 2.2-40Ah such as Motorcycles, ATVs, Lawn Mowers, Personal Watercraft and Snowmobiles. In addition to charging, the G4 can effectively maintain any 6V or 12V batteries in larger applications such as Cars, RVs, Boats and Trucks. With multiple charging modes, the G4 can safely charge all battery chemistries such as, Wet, Gel, Maintenance-Free and AGM batteries. Fortified with several safety features like reverse polarity, abnormality protection and spark-proof protection, the G4 can be left connected to batteries indefinitely without risk of damage to the battery or charger.
The G4 will be available for shipment April 1st with pricing starting at $199.95 and currently available for pre-order at Amazon.com. For further product information please visit the NOCO Genius website at geniuschargers.com.
The NOCO Company is a specialist in the battery products and accessories industry. Their products include: battery corrosion preventatives, battery cleaners, battery boxes, battery chargers, solar battery chargers, booster cables, battery cables and much more. For over 96 years, the NOCO brand name has been synonymous for quality, reliability and dependability.