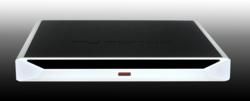 Jason Lim, CEO of Nuforce: "I think we are very close to the theoretical limitation of the performance of a preamp and high-end audio customers would be very pleased to learn that it is still affordable."
Milpitas, California –
February 20, 2012 (PRWEB) March 13, 2012 -- Volume controls invariably introduce noise and channel imbalance issues. In response, NuForce has created the P-20 as a no-compromise solution of near audio perfection.
Volume adjustment is achieved via a numerically controlled, switched-resistor ladder network, wherein a single thin-film, ultra-low-noise resistor is inserted in the signal path for each of the 99 discrete 0.5dB steps. Independent level matching of each input is possible as well.
Amplifier circuits are of all-discrete design, wherein speed is paramount. Therefore, capacitive circuit loading is minimized by the use of ultra-low-noise, specially selected MOSFET and Bi-Polar transistors combined within a driven-shield arrangement. The resulting preamplifier boasts a 5MHz power bandwidth, a S/N ratio exceeding 100dB, distortion below .001% and a dynamic range in excess of 120 dB. There are no capacitors or DC-servos whatsoever within the inherently stable gain circuits.
Precise, repeatable performance mandates thermal stability, so key amplifier modules are encapsulated by insulation and heavy copper shielding to avoid thermal drift. In addition, each employs self-contained shunt regulation in conjunction with a floating current-source supply for complete isolation from noise. Finally, all control functions are powered by a separate supply so that no switching noise ever contaminates low-level analog signals. In keeping with the P-20's state-of-the-art features, a convenient, custom-designed remote control is included as well.
Jason Lim, CEO of Nuforce: "I think we are very close to the theoretical limitation of the performance of a preamp and high-end audio customers would be very pleased to learn that it is still affordable."
Pricing and Availability
The NuForce P-20 is available worldwide for a suggested retail price of US $5000 and shipping immediately.