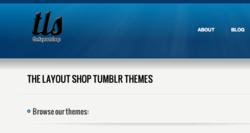 We'll be adding new themes very soon
Los Angeles, California (PRWEB) March 14, 2012
The Layout Shop recently welcomed a new management team to oversee the website's operation. The team had previously expressed concerns over the site's current design and functionality. They now say that they are currently hard-at-work on major improvements to the site, including new Tumblr themes.
"One of the areas that need major fixes comes down to the purchasing function" says new website manager Nicolas Camp. "We can make it much more streamlined and convenient for users to make purchases."
The team also mentioned the addition of a discussion board to the site, allowing users to interact with the admin and each other. Users can post comments, concerns, discussions and even suggestions for new themes on the forum. "We hope to develop a community of sorts within The Layout Shop" says Camp.
The new team has also released a preview of the new look that the site will be sporting after the overhaul. Lead web developer Ken Morales says that "we're thinking of going with a fresher and more interesting look for the site."
Some of the changes have already been implemented, such as the green "add to cart" buttons. There is also continued support for any issues concerning purchases.
Following the further implementation of said changes will be the addition of brand new themes. "It's very important that we keep the site's collection of themes updated with new ones periodically" says Morales. "We'll be adding new themes very soon. We're very excited about those" he adds.
The team hopes that the coming overhaul of The Layout Shop will be received well by users. "We want to offer users the best Tumblr themes on the internet and the improved website will help greatly in that goal" says Camp.
About The Layout Shop
The Layout Shop is an online theme store specializing in professionally-made and customizable premier and free themes for Tumblr