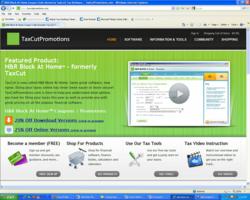 ...waiting for a tax refund can be like waiting for Christmas to arrive.
Houston, TX (PRWEB) March 13, 2012
Yesterday TaxCutPromotions.com announced an exclusive 35% Off H&R Block coupon for H&R Block At Home tax preparation software. The impressive savings available through this exclusive offer have garnered extensive attention from consumers gearing up to complete their 2012 taxes.
For individuals who have not yet started their tax filing process for 2012, the 35% off H&R Block coupon code should be a wake-up call. It is time, past time, to get moving on preparing 2012 taxes. Saving 35% off the online retail price of H&R Block At Home Tax preparation software is only the beginning of the money-back possibilities. H&R Block offers a Maximum Refund Guarantee that promises taxpayers who use their software the highest possible federal income tax refund. Once an individual utilizes the remarkable tools and procedures H&R Block offers to help them obtain the largest possible tax refund, they can choose to receive it via direct deposit, U.S. savings bond, or paper check.
"We understand that after finally getting their taxes filed, waiting for a tax refund can be like waiting for Christmas to arrive," said Justin Bowen, CEO of TaxCutPromotions.com. "One of the reasons we are so excited to be able to offer the exclusive H&R Block coupon for 35% off their tax preparation software is because this software is targeted towards maximizing a user's tax refund in addition to expediting the process."
Generally it will take anywhere from six to eight weeks for a tax refund check to process from the date the tax return is received by the federal government. Always assuming the tax return was completed correctly. With H&R Block At Home tax preparation software, users don't have to worry about completing the tax return correctly. All the little mistakes that are so easy to miss due to basic human error, the software automatically catches. In addition, with H&R Block At Home, e-filing a tax return can be done in a few simple clicks, cutting down on the overall time it takes to process a refund.
The exclusive 35% off H&R Block coupon is prominently featured on the home page at http://taxcutpromotions.com/ The offer is valid for the week of March 12th thru March 18th, 2012. Regardless of whether or not a taxpayer is expecting a nice tax refund (perhaps especially if they are not!) this limited time exclusive offer is one that should not be passed up.