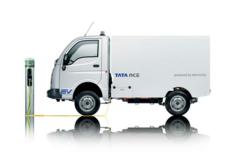 London (PRWEB UK) 15 March 2012
With no tailpipe emissions but a strong and rugged steel-manufactured chassis, the new Tata Ace provides excellent business van news for any city operator that wants to eliminate the London congestion charge, avoid Low Emission Zone (LEZ) charges, cut operating costs – and emissions.
Tata is holding a special driving event in central London so that anyone can test this compact but tough workhorse for themselves on 14 March. Register for the event here: Tata Ace EV ride and drive event.
So why find out more?
Well, there are three versions of the new Tata Ace EV, all with the same compact dimensions and tight turning circle for excellent inner-city manoeuvrability: the Ace EV dropside, Ace EV tipper, and Ace EV boxvan.
All three versions are based on an all steel chassis designed for strength and durability, enabling the Ace to take a 500kg payload. Loadbed dimensions are 2100mm x 1500mm.
The battery can be recharged via a 3 pin plug point without losing battery performance. The battery has been tried and tested, says Tata, and comes with a peace of mind two-year warranty. Tata says replacement battery costs are economical, too. Range is up to 30 miles, sufficient for most return to base urban deliveries.
New Tata Ace box van – electric power for zero tailpipe emissions, no LEZ or congestion charge, and low operating costs
Other features include a two-seater cab while standard specification include roof mounted high intensity amber beacon, reverse warning buzzer and an automatic drive inhibiter to prevent the Ace being driven away while it is still on charge.
Tata says price of the Ace EV is economical. Full prices will be revealed at the Tata business van test ride and drive event.
Sources:
Weboptimiser News http://www.weboptimisernews.com
Business Car Manager http://www.businesscarmanager.co.uk