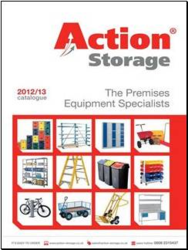 (PRWEB) March 19, 2012
Action Storage, the premises equipment specialist, has released the latest edition of its catalogue. Expanded to 220 pages, it features over 4000 products, including over 1000 shelving and 800 different locker configurations. Many prices have either been frozen or reduced, offering big savings to schools, offices, retailers, warehouses and the thousands of organisations supplied by Action Storage.
The catalogue is available in both print and digital format, enabling customers to easily search through Action Storage's vast product range. Highlights include its eXtreme® Plastic Lockers which are made from hardwearing polyethylene and can be stacked outdoors under cover, and the Atlas® Steel Lockers, which offer durable budget priced storage for schools. Another popular product in Action Storage's range is its highly versatile Supershelf™ Shelving System, which can be easily configured to maximise the space in any stockroom or retail area, and has had its price held since 2010. The catalogue features many new products, such as In-Charge Tool Lockers, Budget Shelving, Collapsible Plastic Box Pallets, Pedal Waste Bins, Winter Preparation Equipment, Fibreglass Stepladders, to name a few.
Further information on these items can now be accessed directly through the digital version of the catalogue. Quick Response (QR) codes, which resemble square barcodes, dotted around the catalogue can be scanned with a smartphone to view demonstration videos and assembly guides.
Partnering Action Storage's extensive product range are its customer focused services. Action Storage offers free delivery on orders to mainland UK, with delivery by its dedicated installation team. Action Storage's SEIRS trained installers ensure that shelving, racking and other products are installed safely and securely. In addition, for large installation projects Action Storage provides a unique, free survey and design service. Action Storage will visit an organisation's premises to assess the available storage space before providing plans on the best arrangement, which often results in cost savings.
With many organisations continuing to struggle with budget constraints, Action Storage actively monitors prices to ensure it is offering the most cost effective prices to its customers. Ways in which organisations can stay updated on Action Storage's latest price reductions, news and special offers include connecting on Facebook or Twitter, registering for email updates on its website or calling its unique, free helpline for expert advice.
Details of Action Storage's complete product range for schools and the 4000 other products in its warehouse can be found on its website, where you can order its 220 page catalogue free of charge. Any orders placed online receive a 5% discount and schools can place orders on credit with a valid purchase order.
About Action Storage
For over 25 years Action Storage has supplied shelving, racking and other storage equipment using the latest materials and innovative designs. Its clients include supermarkets, warehouses, government offices, schools and anyone else requiring high quality storage systems throughout the UK and mainland Europe.
Action Storage prides itself on its high service levels, and provides a free, unique advice line for discussing your requirements and assessing the perfect storage solution.
For service enquiries contact:
Website: http://www.action-storage.co.uk
Email: sales(at)action-storage(dot)co(dot)uk
Tel UK: 0800 592215
Outside UK: +44 (0)1908 525700
Fax: +44 (0)1908 321650
Action Storage
6 Fitzhamon Court
Wolverton Mill South
Milton Keynes
Bucks
MK12 6LB