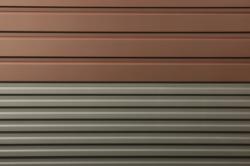 There is a growing industry trend toward natural metals, like zinc, because of their sustainability and long life-span
Moon Township, PA (PRWEB) March 13, 2012
CENTRIA, an industry leader in the design, development and manufacture of architectural metal wall and roof systems, is proud to announce the addition of zinc, by VMZINC, for use as a material substrate in its [Profile Series® Concept Series and IW Series.
"There is a growing industry trend toward natural metals, like zinc, because of their sustainability and long life-span," said Tom Zombek, product manager, CENTRIA. "By adding a zinc substrate option to our Concept and IW Series panels, we are not only providing architects with more choices within these already versatile product lines, but creating a new option that complements our commitment to creating products that offer outstanding aesthetics, performance and sustainability."
The new zinc panels will be available in a 1mm (.039 inches) thickness, provided by VMZINC, with a smooth, non-embossed finish. The panels will be available in five pre-weathered zinc colors from VMZINC, including QUARTZ-ZINC® - Grey, ANTHRA-ZINC® - Black and PIGMENTO® - Red, Blue and Green. For more information about zinc panels, call 800.759.7474 or email info@CENTRIA.com.
CENTRIA innovations in architectural metal wall and roof systems are helping building teams around the world reimagine the building envelope. From inspiration through installation, CENTRIA provides the highest level of expertise including service and support from an elite Dealer Network. Based in Pittsburgh (Moon Township, Pa.), our metal architectural systems are the perfect combination of science and aesthetics, offering advanced thermal and moisture protection, the broadest spectrum of design options, truly integrated components, and superior sustainability. We invite you to explore the limitless possibilities metal provides for your next project and to reimagine metal at http://www.CENTRIA.com/ReimagineMetal or find us on Facebook.
Umicore Building Products is a world-leading producer of architectural zinc. For over 160 years, Umicore has been providing innovative solutions for building owners, architects and contractors. Umicore has offices and representatives all over the world. In the United States, Umicore Building Products USA, Inc., is based in Raleigh, NC. For additional information, visit http://www.vmzinc-us.com. VMZINC also maintains the blog ZINCsense (http://www.zincsense.com) and an active Facebook page.