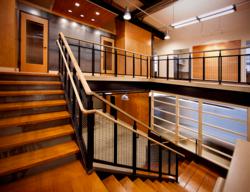 We're much more than an ad agency, so it was time for us to evolve our brand to more appropriately reflect the depth and breadth of services we provide.
Madison, Wisconsin (PRWEB) March 13, 2012
Just six months after celebrating its ten-year anniversary, Shine Advertising Co. has unveiled its new name and identity — enter Shine United. Along with the new name and logo comes the launch of a new website showcasing the award-winning work that has brought Shine accolades from clients and industry peers alike, as well as the move of their 37-person staff into a new corporate headquarters in downtown Madison, WI.
"We're much more than an ad agency, so it was time for us to evolve our brand to more appropriately reflect the depth and breadth of services we provide," said Curt Hanke, co-founder and executive director of account services.
"The name Shine United highlights our expanded capabilities, particularly in the digital arena — as a collaborative, innovative partner with our clients," added Mike Kriefski, co-founder and executive creative director.
The agency's new logo mark, an original piece of art representing a winged lion, is a strong icon with significant meaning for the firm.
"From the beginning of recorded time, Stone Age men and women have used images of lions as symbols of strength and power. Later, alchemists used the iconography of the lion to represent the element gold – eventually adding wings to reflect the idea of change – of their desire to change all things into gold," said Kriefski. "This is who we are and this is what Shine United does; we help our clients find the true value in their brands – we help them turn opportunities into gold."
The agency's new website, http://www.shineunited.com, features its new identity and showcases a broad array of the agency's award-winning creative work.
In concert with their brand migration, the agency has also moved into an historic downtown Madison building, which they have remodeled over the past year.
"It's a proud moment for us," said Hanke. "Thanks to the bright minds and hard work of our amazingly talented staff, we have grown from a small start-up ad agency into a full-service, multi-disciplined firm doing bold, smart work for clients across the country. And our new space continues in Shine's tradition of innovative work environments that help us recruit and retain employees from across the country."
The new office, located at 202 N. Henry Street, occupies a significant downtown Madison property. Historical records show that in the late 1800s and early 1900s, the property was used as a livery and boarding house — in fact, old horseshoes were unearthed during the construction process. The building itself was constructed by Madison architect Ferdinand Kronenberg in 1916 for Ritter Automotive. Ritter operated until 1941; shortly after, in 1942, the building was purchased by Montgomery Ward. In 1979, Montgomery Ward sold the building to Ralph and Danute Reisner, who leased it to the White Horse Inn restaurant for almost three decades.
For the building transformation, Shine worked with J.H. Findorff & Son Inc. in Madison to renovate the building, and with The Kubala Washatko Architects Inc. (TKWA) in Cedarburg to design the space. TKWA assisted Shine in paying homage to the rich history of the building by preserving much of the exterior, while creating an interior aesthetic that was in line with the innovative, collaborative spirit of Shine —blending a mix of organic and industrial materials and allowing for a reflection of the agency's unique culture.
###
About Shine United
Shine United is a $37 million advertising, design and interactive agency located in Madison, Wisconsin. The privately held company's client roster includes national brands such as Harley-Davidson, Carver Yachts, Wisconsin Cheese, Perennial Wood, Glanbia Nutritionals and Winston Fly Rods. Learn more at http://www.shineunited.com. Shine on.