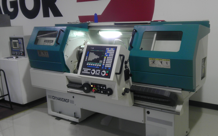 Clearwater, Florida (PRWEB) March 14, 2012
Historically, FAGOR AUTOMATION has focused their efforts on the machine-tool sector where they are one of the world leaders. Besides, their wide technical and sales network that is spread out in more than 50 countries through its own branch offices and distributors, they have great experience in the development and manufacturing of products for machine automation and control. They take pride in their ability to offer solutions tailored to the needs of their customers. It is partly due to this fact that BobCAD-CAM, a PC-Based CAD/CAM software provider recently paid a visit to Fagor Automation in a joint effort to certify the software's capabilities with their CNC Controllers. He continued by saying, "Our biggest goal is to be able to provide a higher level of support & service to our mutual customers and when Fagor customers spend money on a CNC machine and use BobCAD-CAM with it they do not have to spend time configuring post processors as it's already done," said Sean Owens, the Support Director for BobCAD-CAM.
BobCAD-CAM software is used to fully automate and control the process of creating toolpaths used for machining and for producing G-Code programs that are then sent to these machines, both milling and turning. Therefore a large part of the process is automatically creating a machine code in the specific language the machine will accept and execute. "Not all machines are the same, the programming can even vary slightly from model to model. Therefore, as a CAD/CAM company it's extremely important to maintain close relationships with machine manufactures, distributors and controller companies such as Fagor Automations," Owens added. A good percentage of BobCAD-CAM customers currently use Fagor machine tools to manufacture which is another reason why the software outfit decided to focus on this controller product. Rich Perenti, Office Manager for Fagor Automation USA was quoted by saying, "As a control manufacturer, we are always looking for ways to make programming easier and more intuitive for the End Users. The demand for Advanced Cycles and Conversational programming on control systems is naturally giving way towards more Cad/Cam ready fabrication environments. With advances in Cad/Cam technology and more user friendly tools like the ones found in BobCAD-CAM software, our customers are experiencing greater successes and efficiencies regardless of complexity. This is a winning combination for all partners!"
Part of BobCAD-CAM's overall service plan is to officially certify all of their software post processors which in turn will not only provide solutions for existing customers but will open the door for new business in 2012 moving forward. For more information on the BobCAD-CAM CNC Programming Software contact the at 877-262-2231 or 727-442-3554. You can also visit them online at http://www.bobcad.com for a free evaluation copy of their products.