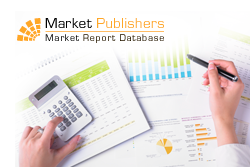 London, UK (PRWEB) March 13, 2012
The global market for radio frequency identification (RFID) systems, including tags, in postal & courier sector will be worth USD 2.5 billion by 2018, with a potential to be much bigger in case current efforts to tag individual items gain widespread acceptance. In due course, more than one trillion postal items will be tagged every year, making this the world's second largest application of RFID after the retail supply chain. Postal services ignoring this accelerating change will become uncompetitive and suppliers missing out are sure to regret it.
New research report "RFID for Postal and Courier Services 2011-2021" worked out by IDTechEx has been recently published by Market Publishers Ltd.
Report Details:
Title: RFID for Postal and Courier Services 2011-2021
Published: September, 2010
Pages: 212
Price: US$ 2,895
http://marketpublishers.com/report/technologies_electronics/telecommunications/rfid_4_postal_n_courier_services_2011_2021.html
The study examines the rapid increase in use of RFID in the postal and courier services. It features granular ten-year forecasts along with a full explanation of the technologies, covers more than 40 cases studies of RFID in action at postal and courier services in North America, Europe, the Middle East and East Asia. Furthermore, major breakthroughs expected to provide future success are thoroughly discussed.
The report mentions a postal RFID system, successfully tested in Korea this year, which completely automates the whole process of mail delivery from accepting the package to classification and dispatching. Also noted is the Swedish Post and their system that detects and records tampering using RFID and other innovations abound, including RFID cards controlling driver access to postal vehicles and RFID enabled postal sorting equipment.
Reports Contents:
Executive Summary and Conclusions
1. Introduction
1.1. Benefits
1.2. Evolution of RFID in postal and courier services
1.2.1. Calculating cross charges
1.2.2. Conveyances and vehicles
1.2.3. Postal boxes
1.2.4. Latest developments
1.2.5. RFID recorded delivery
1.2.6. RFID for orders online
1.2.7. Automatic handling equipment
1.2.8. A world first trial in Korea
1.2.9. RFID at China Post
1.2.10. Experience from a courier service company - TNT Express
1.2.11. RFID for Postal Services in the Middle East
1.2.12. The Global Monitoring System
1.3. Structure of this report
1.4. Lessons from the last ten years
2. Mass Tagging of Postal Items and the Tagging Of Assets
2.1. EPCglobal influence on standards
2.2. Choice of frequencies
2.3. The EPC air interface
2.4. Gen2 is a breakthrough for some open RFID systems
2.5. EPC is not confined to UHF
2.6. Over promising - no ideal frequency for everything
2.6.1. RFID System overview
2.7. RFID enabled asset management
3. Detailed Case Studies
3.1. Item level
3.1.1. IPC AMQM - the largest RFID network in the world
3.1.2. Correos - Europe's largest UHF EPC project
3.1.3. DHL, temperature monitoring pharmaceuticals, USA
3.1.4. City Link, UK
3.1.5. DHL postal packages, Belgium
3.1.6. China Post, mail bags China
3.1.7. DHL postal packages, Belgium
3.1.8. UPS courier packages USA
3.1.9. FedEx NetReturn/ Intellareturn courier returns USA
3.1.10. DHL Time/temperature recording Belgium
3.1.11. La Poste, measurement of mail flow France
3.1.12. European Commission ParcelCall project, Europe
3.1.13. The Global Monitoring System
3.1.14. Royal Mail, mail flow monitoring, new system UK
3.1.15. Royal Mail, monitoring letters, UK
3.1.16. US Postal Service, mail flow item level, USA
3.1.17. DHL Fashion apparel France
3.1.18. Deutsche Paket Dienst parcels Germany
3.1.19. Home Office, TRI-MEX International Ltd, Nokia and DHL, UK/ Finland
3.2. Post boxes
3.2.1. Saudi Post post box identification Saudi Arabia
3.2.2. La Poste postal box access France
3.3. Conveyances
3.3.1. Brinks France transport container access
3.3.2. TNT Express and Thai Customs, overland logistics, Thailand
3.3.3. TNT, Liege Airport, freight tracking, Belgium
3.3.4. UPS tote boxes USA
3.3.5. UPS tote boxes Phase Two USA
3.3.6. UPS shipping tools USA
3.3.7. UPS Reusable container sortation USA
3.3.8. DHL and Nokia, cellphone transit cases UK/Finland
3.3.9. Italian Post Office, mailbags, Italy
...
More new research studies by the publisher can be found at IDTechEx page.