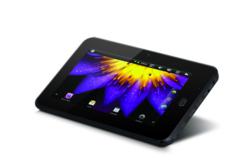 (PRWEB) March 14, 2012
Hipstreet, an emerging worldwide consumer electronics company, introduces the VEKTOR Wi-Fi 7-inch Touch Screen Tablet, a full-featured beauty that packs a powerful punch and offers users multiple applications on one affordable device.
Games, videos and movies pop on the VEKTOR's beautiful high-resolution HD LCD color screen.
The VEKTOR's versatility and lightning-fast speed makes it ideal for entertainment-seekers looking for one tablet that does it all. Its built-in Wi-Fi gives users the ability to surf the web quickly and check their email without missing a beat. Music lovers can enjoy their full library of tunes and download their favorite apps on the VEKTOR.
The 7-inch size makes it perfectly portable. Travelers for business or leisure can easily tuck away the sleek tablet for instant access while on the go. Book fans will love using the VEKTOR as an e-reader. Its screen is sharp, and its size makes it comfortable to hold in one hand.
Shutterbugs can take photos or capture video using the VEKTOR's camera, which allows for instant sharing through email. The tablet's 4GB storage capacity, which is expandable to 32GB, provides ample space to save photos and videos for users who want their favorite images handy at the touch of a button.
The VEKTOR comes with the Android 2.3 operating system installed. The price is coming soon.
Started in 2002, Hipstreet specializes in consumer electronics. Based in Ontario, CA, Hipstreet has more than 6,000 retail outlets throughout the world, with a focus on markets in North and South America as well as the Indian subcontinent. Hipstreet products are available through retail outlets, including online retailers, mass merchandisers, electronics superstores, office superstores, home-shopping networks, major distributors and independent retailers.