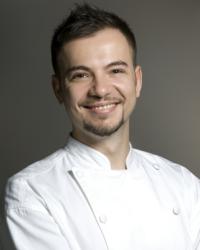 His free spirit and love for food stimulates creativity and the exploration of different regional expressions of Italian cuisine.
Marco Island, Florida (PRWEB) March 16, 2012
Sale e Pepe welcomes new Executive Chef Giuliano Matarese. Born and raised in Napoli, the third largest city in Southern Italy, Giuliano Matarese comes from a family of chefs and restauranteurs. At the very young age, Chef Materese knew he wanted to become a chef, learning much from his grandmother's techniques and traditional Neapolitan recipes. Now he reigns as Executive Chef at Sale e Pepe, an elegant yet resort casual restaurant located at the Marco Beach Ocean Resort overlooking the Gulf of Mexico.
According to Chef Matarese he "was born with a mission to cook." His free spirit and love for food stimulates creativity and the exploration of different regional expressions of Italian cuisine. "By combining the familiar taste of fresh ingredients with exotic herbs and spices it gives traditional Southern Italian cuisine a progressive feel from preparation to presentation," stated Matarese. As Executive Chef at Convivio and Chef de Partie at Charlie Palmer's Aureole, a Michelin-star restaurant in New York City, Giuliano brings his personal style and creative flare to the Southern Italian cuisine offered at Sale e Pepe.
Chef Matarese received extensive training in his family's restaurant in Napoli Italy, with a particular focus on traditional Neapolitan recipes. In addition, he completed a "Food Styling and Photography" Workshop with renowned photographer Lou Manna. Matarese has been featured in many events and television appearances including the following:
PRESS AND EVENTS
1.Several reviews on La Cucina Italiana, Italian Cooking and Living, Weekly NY Japion, Time Out NY, Digital City and Walman Report
2.La Cucina Italiana, hosted events including Mediterranean Night, April 2003; Hands-on-Class and Dinner, August 2004; Chef Versus, October 2004; and Truffle Festival, October 2007
3.James Beard Foundation: Barilla Italian Luncheon, July 2005
Reservations are preferred and can be made by calling 239.393.1600. Seasonal specials are available on the website http://www.sale-e-pepe.com.
Sale e Pepe an authentic Italian restaurant located at Marco Beach Ocean Resort on the fabled Marco Island white sand beach is enjoyed by resort guests, locals and is also part of The Tarpon Club, offering homeowners of Fiddler's Creek the opportunity to enjoy a beach and boating lifestyle so precious to those who live in the Naples/Marco Island area. Fiddler's Creek residents also enjoy The Club & Spa amenities and have the opportunity to join The Golf Club, ranked in Golfweek's 100 Best Residential Golf Courses in the country for the seventh consecutive year.
Fiddler's Creek community is located off of Collier Boulevard on your way to Marco Island, FL. For information, please call (239) 732-9300 or visit http://www.fiddlerscreek.com.