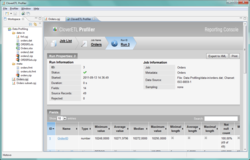 Just like the seamless relationship between our Designer and Server, the Data Profiler comes with the same integrated user experience that complements the other two.
Washington, D.C. (PRWEB) March 15, 2012
Javlin, developer of data integration software CloverETL, today announced the newest addition to its family of products: the CloverETL Data Profiler. Data profiling is a vital first step in understanding the big picture of a company's data. Using statistical examination to expose inconsistencies, the CloverETL Data Profiler fits neatly into any data project flow. By giving users an organized first-look at their data before they make decisions based upon it, the Data Profiler lowers the risk of project implementation.
CloverETL Data Profiler's integration with CloverETL Designer allows users to smoothly move projects from the analytical to the integration phase. David Pavlis, President of Javlin, said: "The Data Profiler was not created with a 'me too' mentality. As opposed to vendors chasing the broad palette of tools, Clover has always followed a clear path, producing complementary tools that are tightly integrated. Just like the seamless relationship between our Designer and Server, the Data Profiler comes with the same integrated user experience that complements the other two."
Key features in CloverETL Data Profiler include:

Integration with CloverETL - allows users to export metadata and connections built in the Data Profiler and reuse them in the CloverETL Designer for a smooth transition from the analytical phase to data integration. The profiler is built on the same high-speed engine as CloverETL, which means less time waiting, more time analyzing.
Web-based Reporting Console - provides a simple and intuitive way to access statistical information in tables and charts. Users can access the reporting console either directly from the application or from a standard web browser. Charts, exports of results to XML, and print methods are also available.
Metrics Options - there are various metrics options for an optimized view of the data set including: null count, unique values count, statistical metrics, string pattern distribution, convertibility to date or number, frequency charts and value distribution charts, to name a few.
Stored History - profiling results are stored in the relational database, which is useful for trending and comparison. The storage structure is open, allowing further exploitation of profiling results.
Automation - execution of a profiling job from a command line allows for smoother automation or integration into a more complex workflow.
By taking a closer look, businesses using the CloverETL Data Profiler can then reap a deeper meaning from their data— the most valuable asset to a company. When the profiler uncovers data imperfections, reports present an objective perspective of data characteristics quickly. This informs decisions by helping users gauge issues at the outset—and before beginning a data project.
"When we add the CloverETL Data Profiler to the toolbox, we are actually providing developers and teams who are implementing data integration applications with a complete toolset for mastering their data projects," said Pavlis.
The product, released in beta last October, received useful customer feedback to improve the final product offering. The CloverETL Data Profiler is now available for commercial purchase and community download here.
About Javlin - Javlin is a key provider of data integration software and solutions. Its software platform, CloverETL manages data solutions such as integration, migration, cleansing, audit, synchronization and consolidation, as well as feeds applications such as Master Data Management, Enterprise Service Bus, and Business Intelligence. CloverETL is platform independent, scalable, and also easily embeddable into other data solutions thanks to its small footprint. More than 2,000 customers, including a large installed base with OEM partners, use CloverETL worldwide. In addition to development of data integration products, Javlin also offers software solutions, custom software development, and data integration consulting services.