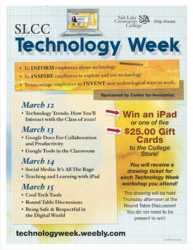 Participants will learn:
Benefits and dangers of the digital world.
Differences between today's versus yesterday's technologies. The conference will also cover Strategies for being safer and more respectful in today's digital world.
Salt Lake City, Ut (PRWEB) March 15, 2012
Salt Lake Community College presents Technology Week from March 12-15 at its Taylorsville Redwood campus, located at 4600 South Redwood Road in Taylorsville. The event is geared toward college employees, their families and the general public and aims at exploring the benefits and dangers of today's digital world, the differences between today's and yesterday's technologies, how teenagers use the internet, and how to reduce the risks posed by digital technologies.
Scott Hardy, Cicero Group Vice President & Principal, will be the keynote presenter for Monday's session. His address will review the current mega-trends in consumer technologies (including social, mobile, and video), and how rapid shifts in the ways young people gather and consume information will change the ways teachers interact with students in the next five years.
Thursday's session features a presentation on being safe & respectful in the digital world. Presented by by Dr. Rick Cline, Utah Education Network (UEN) instructional technologist, this session is geared to the entire community.
This session addresses the challenges that parents and children face in today's digital world, including social networks, photo sharing, blogs, and the variety of ways people communicate with friends, family, and sometimes online predators. This session will also address the strategies that anyone can learn and use to be safer in today's digital world.
Tim Stack, web academy coordinator, UEN, will offer the presentation for Tuesday's main session on Google docs for collaboration and productivity. Stack provides the expertise behind the professional development web academy. He trains teachers throughout Utah in the areas of technical skills and technical integration and hosts UEN's weekly 'Faculty Lounge' webcast.
SLCC social media coordinator Sarah Reale will present Wednesday's main session on Social Media. Her presentation will cover the basics of social media: what's happening in the industry, where it is headed, and how SLCC will be utilizing social media to enhance its messages and goals and connect with students.
Business development executive for Apple Kurt Bedell will also present on Wednesday. His presentation will discuss teaching and learning with Apple's iPad.
Bedell will discuss how the iPad as a new category of technology device, one that is a powerful content creation tool that makes possible new ways to reach students and streamline teaching practices.
In addition to Dr. Cline's internet safety session, Tech Week's Thursday slate will also include a presentation by UEN instructor Rob Bentley who will discuss the way 'cool tech tools' can enhance teaching and learning.
In addition to the featured session, various roundtable discussion will take place on topics ranging from using video in the classroom, employing GIS systems, capture screen technology, website promotion, apps & mobile technologies, YouTube.edu, and more.
# # #