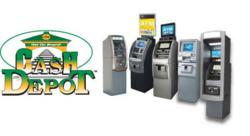 All In One Stop
Green Bay, WI (PRWEB) March 14, 2012
Cash Depot will have on display some of their leading Nautilus-Hyosung® and GenMega® ATM equipment, along with Excel® Digital Air Towers. If you are not already aware of the new ADA compliance regulations required for ATMs, they are extremely informative on the issues and are offering deals to upgrade older equipment that aren't ADA compliant.
Member Defined:
For registration and other M-PACT purposes, a "member" means those companies who are members in good standing with at least one of the following associations, of which Cash Depot is:

Illinois Petroleum Marketers Association & Illinois Association of Convenience Stores
Indiana Petroleum Marketers & Convenience Store Association
Kentucky Petroleum Marketers Association
Ohio Petroleum Marketers & Convenience Store Association
For more information about Cash Depot and ADA compliancy and ATM equipment, visit their main website: http://www.cashdepotplus.com, or the sales website: http://www.cashdepotatm.com
Cash Depot is a privately owned, independent full service ATM Provider focusing on merchants and financial institutions. It is one of the few companies in the industry that provides In-House Processing resulting in the fastest possible transactions. Cash Depot sells, leases, rents, services and supports ATMs in the most efficient way maximizing profitability and customer satisfaction.
Cash Depot - The One Stop ATM Provider
1740 Cofrin Drive Suite 2
Green Bay,WI 54302
1-920-432-5777
1-800-776-8834
http://www.cashdepotplus.com
http://www.cashdepotatm.com