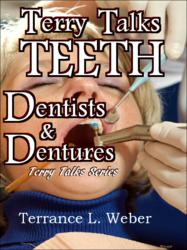 Toms River, NJ 08753 (PRWEB) March 15, 2012
Originals By Weber, Terrance L. Weber, Author of this new fifty-six page Ebook which is downloadable on tablets, phones and computers, "Terry Talks Teeth, Dentists, Dentures," the author, Terry Weber "talks" and explains that in today's society most people are losing money and time because they are reluctant to talk about their teeth, trips to the dentist and problems with their dentures. This new Ebook traces dental history as far back as the Stone Age, toothache treatments by the ancient Romans and Chinese as well as a short history of modern dentistry as we know it today. The importance of constant dental care is stressed and suggestions are offered about how to find a trustworthy dentist.
Dentistry skills go all the way back to a 9,000 year old Stone Age burial site in Pakistan where remains of artificial teeth (what we now call: false teeth or dentures) were discovered. Found at the same site were eleven teeth that had been drilled and filled in what appears to be a rather complex procedure used to hollow out the cavity inside a tooth. Recent reports from Mexico's National Institute of Anthropology and History said ancient people in that part of southern America went to the "tooth barber" (dentist) as far back as 2,500 years ago. Rich men often had their front teeth drilled and decorated with semi-precious stones. It seems they were very careful to avoid infection, tooth loss and tooth breakage.
There are many accounts of scavengers who, in ancient times, after battles, went to battlefields to remove healthy teeth from dead warriors and sold them to local "tooth barbers" who then invented ways to make those teeth fit the mouths of their patients. In addition, there are many legends about George Washington and his life-long problems with his false teeth.
Downloadable copies of all five Ebooks can be ordered @$.99 each from Originals By Weber, 338 Alabama Avenue, Toms River, NJ 08753, 723-864-0353 and 877-309-8382. Website: originalsbyweber.com; http://www.smashwords.com/books/view/141266 and at: Amazon.com