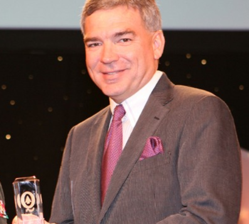 "Richard Raley believes GRACE is an incredible charity that helps families when they need it the most," said a representative. "He was happy to support the efforts of such a generous organization."
(PRWEB) March 14, 2012
In an effort for ongoing philanthropy, Richard Ronald Raley, a prominent entrepreneur and President of American United Logistics, has made a donation towards GRACE charity by sponsoring the 2011 GRACE gala.
Each year, a gala is held to benefit GRACE and Richard Raley's generous donations helped make the 2011 GRACE gala a huge success. "Richard Raley believes GRACE is an incredible charity that helps families when they need it the most," said a representative. "He was happy to support the efforts of such a generous organization." Richard Raley not only provided a sizeable personal donation the gala, but also helped bring in more than $100,000 of outside donations and silent auction items.
The GRACE gala was held on October 15, 2011 at the Irving Convention Center at Las Colinas. This marked the eighth year of the gala's history and this year the Gala was hosted by The Thompson Group Classic Chevrolet. Richard Raley and other guests in attendance enjoyed festivities such as dinner, a silent auction and music. All proceeds from this spectacular event benefitted the GRACE charity.
GRACE provides emergency assistance to struggling families each year who need help with rent, clothing, and furniture. Volunteers operate a weekly Community Health Clinic that includes services such as medications, testing, and health screenings. GRACE also provides a transitional housing program to provide a stable living environment to homeless families as they work toward self-sufficiency. In addition to these main programs, GRACE offers volunteer and donation opportunities during seasonal programs such as their Holiday Food Distribution, Christmas Cottage, and Back to School Supply Drive events.
As an active community member, Richard Raley is grateful for the opportunity to give back. He plans to continue to support GRACE for years to come.
Learn More About Richard Raley