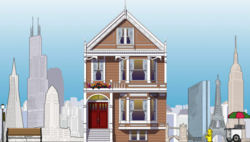 By using Hatch My House wedding registry, couples can move forward as a family, making their dream of building a home a reality.
San Francisco, CA (PRWEB) March 19, 2012
Hatch My House launches a unique online wedding gift registry that lets couples save for a house of their dreams with the help of closest friends and family.
Created for the new generation of newlyweds, Hatch My House provides a fresh alternative to traditional registries for couples who want to save toward a down payment on a house in a unique and personal way.
In an elegant, tech savvy solution, Hatch My House lets family and friends contribute toward the couple's goal of home ownership through a fun, interactive experience. Hatch My House allows couples to design a virtual house - be it a brownstone on a city street or a cottage on the beach - and guests get to donate towards its parts such as a window, the front door or even a set of wineglasses. Items throughout the house range from $25 to $900 and guests can set their own price on an item or select multiple gifts to arrive at their desired price range.
According to wedding etiquette expert Peggy Post, "It is okay for the couple to signal that gifts of money would be welcome. As with registries, give this information out by word of mouth: "Of course we would love anything you get us, but we could really use help with a down-payment on our first home."
Hatch My House wedding registry is free to set up and uses secure payment methods through Paypal to accept wedding gifts. The service fee of 5.9%, which includes Paypal fees, can be paid by the couple or their guests.
"Giving couples the option to save toward a home is both practical and deeply meaningful," said Erin-Marie MacEwen, who cofounded Hatch My House with her husband Rieve. "Little by little, couples are able to move forward as a family, building their home and making their dream a reality."
HatchMyHouse was started by San Francisco couple Erin-Marie and Rieve MacEwen for their own wedding. Living together before getting married - like more than 50 percent of today's couples – the MacEwens didn't want to clutter their small apartment with items from a traditional wedding registry.
"Many couples who choose not to register at a retail location don't need house wares or have no place to store them," said Rieve. "Some live in small apartments and many combine households, doubling inventory, as they move in together."
They wished there was a way for their guests to give them what they really wanted instead – help buying a house, a no small feat for a young couple in the high-priced Bay Area real estate market. The MacEwens created Hatch My House for their own wedding.
Now, Hatch My House is available to engaged couples worldwide and makes a great online gift registry for couples planning a destination wedding.
More information on Hatch My House can be found on http://www.hatchmyhouse.com.