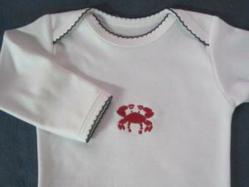 So cute, it makes me want to have another baby!
Rockville, Maryland (PRWEB) March 15, 2012
After having success in the Children's apparel market Ollie & Bess is expanding with a new layette line made from the purest pima cotton available. The collection is classic layette with hats, kimino sets and gowns for little ones. The exclusive designs featured on the layette line fit right into the classic preppy look of Ollie & Bess.
Inspired by the stationary of Penny-Bear printing, Ollie & Bess has partnered with owners Jenny Feldman & Christy Deitz to create exclusive designs to be featured on their new layette collection. The spring line features six designs with more to come in the fall season.
Ollie & Bess is a classic children's clothing line for boys and girls. Founded by Susan Grimberg after having a hard time finding cute, well made clothing for her children, that kept kids looking like kids. With hand selected fabrics and cute designs that your kids will love to wear, Ollie & Bess is sure to be one of your favorite kids brands.