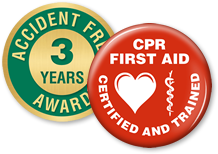 "One of the great things about these pins is that they're portable ways to reinforce safety messages," said Lisa Pollick, Manager at MySafetySign.
Brooklyn, NY (PRWEB) March 14, 2012
MySafetySign is adding new safety buttons and pins to its impressive safety product selection. Though the retailer specializes in signs, labels, and mats, buttons are wearable ways for buyers to spread safety messages in their workplaces.
In an emergency, identifying people who know CPR can prevent fatalities. According to research statistics, the American Heart Association estimates in many cases that performing CPR early can save up to 100,000 to 200,000 lives of adults and children each year. Now CPR-certified workers can identify themselves with a stock safety button. Pinpointing a trained professional can save time, energy, and even lives when there is an incident in a busy workplace.
Shoppers are bound to find the safety buttons they have in mind. "One of the great things about these pins is that they're portable ways to reinforce safety messages," said Lisa Pollick, Manager at MySafetySign. "No one would carry a sign around all day, but a button makes it easy to find qualified professionals or keep up morale." The safety buttons provided are "Safety Begins with Teamwork" and "Safe Worker" to motivate and remind employees. To reinforce any awards the company gained, MySafetySign carries enameled award lapel pins to show how long a workplace has been accident-free.
One of the best aspects about MySafety Sign is its custom wizards that encourage a personal touch. In fact, shoppers don't even have to create buttons about safety. A shopper can easily add in their personal text or upload their artwork, and MySafetySign even allows people to upload their art at their convenience. The buttons are made from sturdy aluminum and plastic and come in packets of five for easy distribution.
Safety buttons are compact ways to promote messages that urge for safety and motivate others. Best of all, they are attractive and customizable. For more information, visit http://www.mysafetysign.com/Safety-Signs/Promotional-Safety-Buttons.aspx.
###
About MySafetySign.com
MySafetySign is the Web's largest store for safety signage. The company's mission is to make signs and labels as effective as possible in order to prevent accidents and save lives. Customers can choose from over 40,000 designs and customizable templates.
About SmartSign
SmartSign is one of America's fastest growing e-commerce companies and parent of http://www.MySafetySign.com, http://www.MyParkingSign.com, as well as over 50 other sites.
Traditionally, signs with the right message have been hard-to-find, hard-to-design and hard-to-order. By positioning "Signs as Solutions", SmartSign has taken an entirely different approach. Through highly targeted, yet content-rich and authoritative sites, the company provides specific solutions to specific problems – such as keeping your facility safe and manageable. "We take the agony out of finding and ordering your perfect sign" – Blair Brewster, SmartSign founder. Couple this with fast and free shipping, 3M warrantied signs that outlast fast-fading ink jet signs from competitors, the web's largest range of designs and a best price guarantee, it is easy to see why SmartSign has grown so quickly.
###