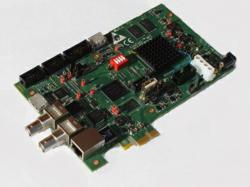 A highly affordable, full function MPEG-2 and H.264 SD & HD PCIe encoder for streaming, storage and OTT applications.... enabling high quality encoding at very low bit rates...
Tampa, FL (PRWEB) March 13, 2012
Vela Research announced the newest addition to its family of high performance multi-screen, multi-format encoders, the XStreamHD Encoder.
Vela's XStreamHD encoder, a board-level solution based upon Vela's Emmy award winning encoding and video processing technology, utilizes a System on IC design to eliminate the need for a host PC, and comes in a half-length PCIe x 1 form factor.
The XStreamHD encoder enables high performance continuous encoding, with very high video quality at extremely low bit rates - and is ideally suited for live events and streaming applications - as well as providing a very price competitive solution for traditional OTT, Broadcast, Cable, VOD, video distribution, education, defense and healthcare applications.
The comprehensive feature list of the XStreamHD encoder board includes these and a wide array of other features required in the most demanding user environments today:

Realtime encoding of HD or SD H.264 (AVC)
Realtime encoding HD or SD MPEG-2
PAL and NTSC television formats
HD/SD/3G SDI Inputs
Closed Caption support EIA-708B and 608B
SDI Embedded audio support
Dolby® Digital bitstream pass-through audio
MPEG1 Layer 2
AAC LC and AAC HE
Intuitive, easy to use web based graphical user interface
File Storage output
Optional DVB/ASI output
IP output over UDP or RTP
IP Unicast and Multicast support
1920 x 1080P @ 24/25/29.97/30/60
1920 x 1080I @ 25/29.97/30
1280 x 720P @ 50/59.94/60
720/704/640/544/528/352x480 @ 29.97
720/704/640/544/528/352x576 @ 25
Mike Reddy, President & CEO of Vela said, "designed with demanding and complex streaming requirements specifically in mind, the XStreamHD produces unparalleled video quality at bitrates from 300 kbps up to 40 Mbps. This makes full resolution (720x480) Standard Definition encoding possible at video bitrates as low as 300 kbps with remarkable video quality and High Definition encoding (1920x1080i or 1280x720P) at bitrates as low as 750 kbps. Vela continues its tradition of designing and bringing to its OTT, broadcast, cable, video distribution, VOD and other demanding customers, solutions that offer the highest performance and full functionality - to ensure that each solution integrates seamlessly into operators' workflow and minimizes the need for extraneous equipment to perform the high performance video encoding, content creation, mastering, capture, streaming and distribution functions."
Kevin Grubbs, Vela's Director of Engineering, said "the XStreamHD supports HD-SDI/SD-SDI and 3G SDI inputs with embedded audio encoding. Support for EIA 708B and 608B Closed Captioning will be available for broadcast and cable applications as well as access to other VANC data. The XStreamHD supports streaming via IP in Unicast or Multicast modes using UDP or RTP and RTSP. The encoding solution also incorporates an intuitive web based graphical user interface (GUI), for quick configuration and ease of operation within a time-saving and user-friendly encoding environment."
Users in the broadcast, cable, OTT, content distribution, VOD, post-production, education and digital signage fields interested in further information or in test-driving the XStreamHD encoder board are invited to contact Kevin McDowell at 954-558-2063 (kmcdowell@vela.com).
About Vela: Vela® is an Emmy® award winning company offering a complete range of high quality standard- and high-definition products for the broadcast, cable, OTT, VOD, post production, enterprise, and education markets. Vela designs and manufactures system and board level solutions used in a variety of MPEG-2, H.264, VC1 and Apple ProRes applications. Over the past 18 years, Vela has earned recognition by virtue of the trouble-free, high-performance and cost-effective solutions in use in demanding customer environments worldwide. Vela is based in Clearwater, Fla., USA, and on the web at http://www.vela.com.