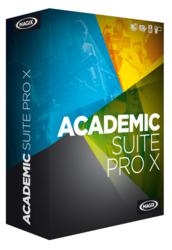 Learning how to create and work with new media
Reno, Nevada (PRWEB) March 14, 2012
MAGIX , one of the leading international providers of software, online services, and digital content, has announced the release of MAGIX Academic Suite Pro X, the Complete Package for Media Creation.
Competence with media creation is just as important in schools as it is in the workplace. MAGIX is aware of this fact and is presenting a new media software package specifically tailored to the needs of secondary school and college students. MAGIX Academic Suite Pro X combines video editing and post-production, graphic and web design, and audio editing in one comprehensive package. The suite is being offered at the unbeatable price of $9.99 per seat for a school license (up to 500 students) or $149 for a single user license (regular list price is $797).
MAGIX is also offering maintenance contracts that will drastically reduce the cost of program upgrades and new versions.
MAGIX has been awarded for its involvement in education and is proud to offer user-friendly programs that guarantee amazing results even during short lessons. MAGIX Academic Suite Pro X also offers instructors an efficient way to teach professional level media production and is a welcome addition to the company's educational portfolio which already includes Academic Suite MX for younger students (grades 5 to 10). Find out more about MAGIX Academic Suite
MAGIX Academic Suite Pro X includes three synchronized programs:
The professional video editing program MAGIX Video Pro X4 offers a user-friendly introduction to the world of video with a vast array of editing tools and effects including 3D and 5.1 Surround Sound.
The graphic and web design program Xara Designer Pro 7 is perfect for creating brochures, flyers, homepages, presentations and animation.
The newly designed Academic Edition of MAGIX Samplitude Music Studio MX is now even better for use in the classroom. This program is the all-in-one solution for music production and includes ten instrument plugins called "Vita Solo Instruments" for creating arrangements with an authentic sound.
Sebastian Merk, Senior Product Manager Education at MAGIX: "These days, competence with Internet and video production isn't only necessary in creative and artistic courses of study. Companies expect graduates and new employees to have some knowledge in these fields. Academic Suite Pro X from MAGIX offers teachers and students an affordable opportunity to meet these expectations and produce professional results."
Learning how to create and work with new media - The programs and their applications in schools and colleges
The multimedia trio that makes up Academic Suite Pro X can be used well beyond the "classic" media subjects such as art, music and computer science. Videos and audio recordings can also be extremely useful in language courses where students can record and check their speech. The same principle can be applied in physical education by using MAGIX Video Pro X4 to record students while they play sports. The videos can be watched in slow motion to analyze play patterns. Teachers can make videos to help explain course content in more detail and students can use video to make their presentations more interesting and engaging.
The programs are also ideal for extracurricular activities such as college radio and TV or school newspapers. You can even use MAGIX Video Pro X4 to record theater performances so the students participating have something to add to their portfolios. The programs in MAGIX Academic Suite Pro X offer everything an educational institution needs to do its own public relations - from the creation of brochures for programs and events, to promotional videos showing what the school or college has to offer, on through to the school or college website.
Price & Availability:
MAGIX Academic Suite is available from Digital River Education Services and Genesis Technologies Inc. For more information, please see: magix.com
About MAGIX:
MAGIX is a leading international provider of high-quality software, online services and digital contents for multimedia communications. Since 1993, MAGIX has been developing leading technologies for creation, editing, management and presentation of photos and graphics, videos and music. Internationally, MAGIX operates from branches in the USA, Canada, the UK, France, Italy, Spain and the Netherlands. The product range is targeted towards laymen and professionals alike and goes beyond the PC range to include seamlessly integrated online and mobile applications.
According to its retail sales figures, MAGIX leads in the multimedia software sector in Germany and the most important European markets, and is one of the most successful competitors in the USA.
Music, photo, and video software from the market leader - MAGIX
MX - MAGIX Media X-change
MX stands for Media-X-change - the idea being based around simplified media and data exchange within MAGIX programs and services. In time to come, all products of the MX Series will be able to exchange data between each other – directly from the application – and will strengthen the interaction with Cloud services, mobile devices and social networks.
For further information, review copies, or additional images please contact:
Nova Fisher
Tel: +44 1442 351035
Email: nfisher(at)magix(dot)net