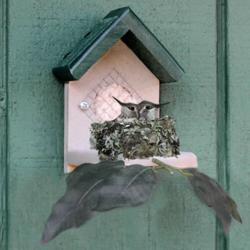 The Hummingbird Nester is a great way to ensure that hummingbirds have the ideal location for nesting.--Mike Dunn
Concord, NH (PRWEB) March 27, 2012
A hummingbird's nest is about the size of half a walnut shell and well-camouflaged with lichens and moss and held together with spider webs. The stretchy spider webs allow the nest to expand with the growth of the chicks. The ideal location is a Y in the branches of a bush or tree. Hummingbirds seek out extremely sheltered locations away from wind, rain and sun. But in the natural world, a hummingbird can't always find the perfect location and the nest and babies can be subject to heat or dampness—even dangerous gusts of wind that may dislodge the nest or chicks.
Duncraft's Hummingbird Nester is a secure platform that can easily be located in the most desired locations—under the eaves of a house or the inside corner of a covered porch. The platform is made of durable, recycled plastic and has a recess with a screened bottom for the hummingbird to build her nest in. Two flexible, vertical supports on either side allow the hummingbird to anchor the nest in place, protecting it from sudden breezes. Also included are two artificial landing branches with leaves which the hummingbird will use when approaching and leaving the nest—as well as a bit of natural cotton that the bird can use to line the nest.
Once a hummingbird has found the perfect place for nest building, she will return to the same location year after year. Duncraft's Hummingbird Nester arrives with comprehensive instructions to help hummingbird-lovers place their Nester in the most desirable location for the best chance of attracting hummingbirds.
Founded in 1952 and located in Concord, New Hampshire, Duncraft's objective is to bring the joy of backyard birding to wild bird lovers all across the country. Mike Dunn, owner and CEO is constantly inventing and searching for innovative ideas in bird feeding—giving bird lovers years of bird feeding enjoyment, success and satisfaction.
Duncraft
102 Fisherville Road
Concord, NH 03303
603-224-0200