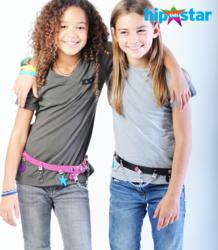 "My kids have a blast with hipstar kids belts," says Betsey Degree, a mom in Minneapolis, Minn. "And I love that their hipstar kids accessories are not just stylish but age appropriate."
(PRWEB) March 14, 2012
Retailers take note, the new hipstar kids line of accessories for kids is an Internet favorite. The hipstar kids charm belt is a unique accessory that kids can DIY to fit their personal style.
Hipstar kid's funky leather belt has snaps all the way around to display a variety of fun, bright, acrylic charms, like headphones, peace sign, chains, guitars and more. It is adjustable, and comes in three sizes and an array of fashion-forward colors.
Color forecast company Design Options reports that "neon pink and shocking blue … yellow and glowing green tones, will be hot for children through the end of 2013." Hipstar kids charms come in bold fuchsia, brilliant yellow, vibrant purple and teal, making them right on trend.
Hipstar kids was created by two moms in Brooklyn, New York, Tracey Lieberthal and Stacey Weihe. Moms in other parts of the country also think the belts are pretty cool.
"My kids have a blast with hipstar kids belts," says Betsey Degree, a mom in Minneapolis. "They look great with denim, but my personal fave was when my 5-year-old daughter layered hers over a tulle skirt on the first day of kindergarten. It was kind of 'urban ballerina' and everyone loved the look!"
Kids can instantly change their look by rearranging or snapping on new hipstar kids charms and layering them with different outfits. "I like the fact that my youngest daughter enjoys making her own choices when she's getting dressed for school," continues Degree, "and my tween is holding steady with the cool chain charms all the way around her belt."