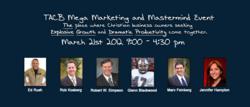 Fort Lauderdale, FL (PRWEB) March 14, 2012
The Association of Christian Businesses (TACB) is the place where Christian business professionals seeking explosive growth and dramatic productivity come together to learn the latest marketing techniques and strategies to prosper their business. TACB is hosting their first ever Association of Christian Businesses Mega Marketing and Mastermind Conference on Wednesday March 21, 2012 in Fort Lauderdale, Florida.
Andrea Szebeni, Registered Dietitian, implemented TACB style marketing and increased her professional fees by 10 fold and earned more in one week than in the previous 3 months. "TACB style marketing transformed my business and has changed my life! I now have the confidence and strategies to charge what I am worth and have attracted the kind of clients that appreciate me and pay me what my services are worth!" says Ms. Szebeni. The event features former Miami Dolphin Glenn Blackwood - the original "Bruise Brother", Ed Rush former Marine corp Top Gun fighter pilot, and Rob Kosberg of Crown Financial.
Learn from influential Christian leaders with extraordinary messages of inspiration and advanced marketing strategies. Christian business owners that will challenge and direct businesses to new heights, including celebrity athletes, CEOs, and some of the world's top marketing experts. Attendees will be able to network with other Christian business professionals in a power pack day fueled by like-minded creative entrepreneurs looking to discover tactics and strategies conducive to explosive business growth. "At last, a professional Christian business event focused on helping the Christian business professionals grow and market themselves! Real life examples and strategies that successful Christian business owners are using right now to grow and prosper their businesses" says Carl Foster, Veteran Radio and Television Host.
As a bonus, and keeping with the Christian way of helping others, the Mega Marketing and Mastermind conference will also be benefiting "Place of Hope" a charity that serves orphans and underprivileged children.
The event will be held at
Calvary Chapel Ft Lauderdale
Banquet Hall
2401 West Cypress Creek Road
Fort Lauderdale, FL 33309
Wednesday March 21st, 2012
9:00AM to 4:30PM
*8:00 AM Registration
According to TACB there are 7 reasons why one should attend this event,
1. Experience how to locate one's "target market" and the purpose driven productivity that it will take to capture and keep them coming back over and over again
2. Redefine one's mission by crafting a "Unique Selling Proposition" that will separate their business into a category of ONE just like Dominos did
3. Learn "successful business tactics" that empower one's entire organization to not only survive but also THRIVE in any economic conditions
4. Insights for implementing "TACB Style" marketing for professional career development and explosive business growth that will increase one's bottom line
5. The perfect call in the unexpected storm "what to do when life just happens" a true Super Bowl story
6. Implement "social media strategies" to create massive business exposure and credibility that causes consumer confidence and trust leading to greater brand recognition and more sales.
7. Calvary Chapel Makes a "Terrific Turkey Sandwich"
For more information please contact:
Rob Kosberg
The Association of Christian Businesses
Rob (at) TACB (dot) org
561-629-5701
http://www.facebook.com/TACB.org
http://www.tacb.org
"We Support The H.O.M.E. Foundation"
About The H.O.M.E. Foundation:
The Helping Others Means Everything, or The H.O.M.E. Foundation, is a not-for-profit organization dedicated to helping our Family of Charities. Frank Verdugo, President of The HOME Foundation, wants to help as many worthy charities as possible as they struggle during these tough economic times. Frank Verdugo helps raise funds through luxury dream home raffles, prizes, and high profile celebrity events in Hollywood... "Our mission is to help charities reach their fundraising goals and to bring awareness to their praiseworthy causes." Please visit our Dream Home Raffle at: http://www.HOMEFoundationRaffle.com and http://www.facebook.com/HOMEFoundationRaffle.
# # #