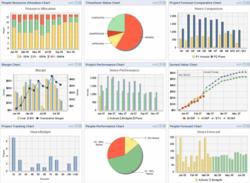 Sterling, VA (PRWEB) March 14, 2012
Unanet Technologies, the leading provider of cloud-based and on-premise software that helps project-based businesses improve visibility into project work and resource management, has been selected by Chickasaw Nation Industries (CNI), a holding company of Limited Liability Companies (LLCs), providing government and commercial clients with diverse products and services, to provide a diverse and robust timesheet management system for more than two thousand staff.
Headquartered in Norman, OK, CNI and its subsidiaries are experienced federal contractors with more than a decade of recorded excellence in contract and subcontract management. CNI is now a holding company with over a dozen (LLCs) that operate as subsidiaries engaged in diverse lines of business including information technology, medical support, construction, aviation and aerospace technologies, business and administrative support services.
Chickasaw provides a vast range of services including, program management, information technology, technical and administrative support, medical and dental staffing, aviation and space technical support, construction, manufacturing, property management, and logistics.
Chickasaw implemented Unanet Project Time based on its ease of use and support for DCAA compliant timekeeping that integrated with their existing financial systems.
About Unanet Technologies, Inc.
Unanet provides superior Services Automation software which maximizes staff utilization, reduces administrative costs by 90%, improves invoicing by 10X, and supports forward decision-making for improved profitability. Unanet's more than 850 customers include government contractors, consulting/services organizations, internal IT (Information Technology), and high-technology product companies. Unanet's suite includes resource management, opportunity/project management,timesheets, expense reports and collaboration with real time information and analytics, easy to use interfaces, and outstanding support. Unanet is available either as an Enterprise license (self-hosted software), or the On Demand License (hosted Software as a Service (SaaS)).
About Chickasaw Nation Industries, Inc.
Chickasaw Nation Industries, Inc. (CNI) received its Federal Charter from the Department of Interior in 1996, pursuant to the Oklahoma Indian Welfare Act (Title 25 United States Code Section 503) and was created for the purpose of promoting the economic development of the Chickasaw Nation of Southeast Oklahoma.