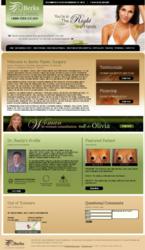 Wyomissing, PA (PRWEB) March 14, 2012
"I want to help educate the greater public," says Dr. Brian K. Reedy, a board certified plastic surgeon of Reading, Pennsylvania – the reason why he decided to launch a specialty breast revision website. "My practice is primarily cosmetic, and I specialize in breast augmentation," he says. "Therefore, I am seeing more and more cases of women [who had their initial breast procedure elsewhere] who are interested in breast revision surgery."
Dr. Reedy's new breast revision website is an extension of his Berks Plastic Surgery main site, as it provides relevant, surgical information that all women considering a secondary aesthetic enhancement or corrective procedure should understand.
Specializing in "surgery of the breast," Dr. Reedy says that the most common reason why a woman would like to alter her original breast augmentation results is "cosmetic dissatisfaction." This may entail changing breast size, type of implant, or the pocket that holds the implant. Some women may be even opt for an additional breast procedure that can optimally enhance their breast augmentation results, such as a breast lift. Some of the actual problems and complications that may cause a person to seek Dr. Reedy for breast revision are: capsular contracture, malposition (too high or too low), unevenness of the breasts, sagging of the breasts due to age or pregnancy, and implant rupture or deflation.
Dr. Reedy's understanding that every patient is unique guides his approach to treating each person on an individual basis. He takes the necessary amount of time to develop the proper "operative plan," which is dependent on the complexity of his or her case. "I try to identify all of their concerns," says Dr. Reedy. "We can usually make things much better."
Another reason for Dr. Reedy's expertise in breast revision is his "extensive background in reconstruction of the breast after breast cancer. Revisional breast surgery combines the technical and problem solving challenges of reconstruction with the delicate balance of aesthetic issues."
In practice since 1998 in Wyomissing, Dr. Reedy is based just an hour outside of Philadelphia. Serving such areas as Allentown, Lancaster, and Harrisburg, as well as those throughout New York, Philadelphia, and even as far as Texas and California, Dr. Reedy provides a warm and inviting office environment, a committed, friendly staff, and a fully-licensed, fully-accredited surgery suite. He is board certified by the American Board of Plastic Surgery (ABPS), and a member of the American Society of Plastic Surgeons (ASPS), the American Society for Aesthetic Plastic Surgery (ASAPS), and the Pennsylvania Medical Society (PMS).
Please visit http://www.philadelphiabreastrevision.com for more information about breast augmentation corrective surgery and Dr. Reedy's practice, Berks Plastic Surgery.