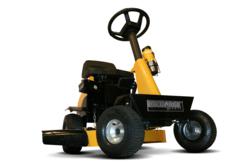 The Recharge Brands feature Emission Free technology that a growing number of consumers are moving towards.
Carson, CA (PRWEB) March 15, 2012
As a leader in the lawn and garden category, Sears.com has chosen to include both the cordless Recharge Mowers and cordless Recharge Tools lines of products developed and distributed by Driven by Solar Inc.
The Recharge Mower line includes the New G2 cordless rechargeable riding mower. The New Recharge Mower G2 cuts up to 2 acres on a single charge. The G2 features all steel construction, has a 36v85Ah power plant that operates the heavy duty drive system and the dual direct drive cutting motors. With 7 selectable cutting height adjustments along with the choice of side discharge or mulching, the G2 is the most environmentally friendly unit in the riding mower category.
The cordless Recharge Mower ULTRALITE lithium powered push mower weighs only 35 lbs. and features a 4 lb. battery pack. The ULTRALITE is easy to set-up, easy to maneuver and easy to operate. Being so lightweight, the ULTRALITE can be carried or transported with ease. There are 6 cutting height adjustments and the choice to use either the rear grass catcher or mulching insert which are both included.
"We are excited to have Sears.com, a premier online retailer, see the benefits of the Recharge brands," says company President Allan Hechtman. "The Recharge Brands feature Emission Free technology that a growing number of consumers are moving towards."
The Recharge Tools are all cordless Lithium Powered with memory free batteries and rapid charging. There is the GTLI-10 Lithium Powered Grass Trimmer and Edger, the HTLI-10 Lithium Powered Hedge Trimmer and the compact GSLI-10 Lithium Powered Grass Shear with Detail Trimmer. Each of these Energy Star rated products are Emission Free, lightweight and so easy to use.
To see the complete line of Recharge Mowers and Recharge Tools, visit the company website at http://www.rechargemower.com or go to Sears.com and search Recharge in lawn and garden. http://bit.ly/y483QW
Driven By Solar Inc., the company behind the Recharge Mower and Recharge Tools brands and registered trademarks, was established in early 2008. The company is focused on developing, producing and marketing a growing selection of environmentally friendly lawn and garden tools. The company can be reached at Info(at)rechargemower(dot)com or by calling 905-997-9300. The company credo: "A greener lawn. A greener planet." remains well entrenched.