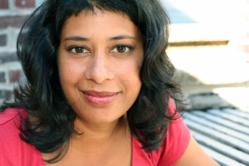 Keene, New Hampshire (PRWEB) March 15, 2012
Rinku Sen, an activist for racial justice and a journalist, will speak at Antioch University New England's (AUNE) commencement on Saturday, May 12.
Sen is president and executive director of the Applied Research Center (ARC), a racial justice think tank, and the publisher of Colorlines.com, ARC's daily news site and national magazine on racial justice issues. She is the author of The Accidental American: Immigration and Citizenship in the Age of Globalization, which won the Nautilus Book Award Silver Medal, and Stir It Up: Lessons in Community Organizing. She co-wrote The Accidental American with Moroccan immigrant Fekkak Mamdouh, co-founder of the Restaurant Opportunities Center of New York.
Sen is vice chair of the Schott Foundation for Public Education and a board member for the Philanthropic Initiative for Racial Equity. She is chair of the Media Consortium, an association of progressive independent media outlets, and sits on the boards of the Restaurant Opportunities Centers United and Working America. She writes regular columns for Colorlines, the Huffington Post and Jack and Jill Politics.
Sen has received numerous fellowships and awards for activists and journalists. In 2008, she won the Progressive Leadership Award from Citizen Action of New York and was named one of Utne Reader's "50 Visionaries Who Are Changing Your World."
Sen grew up in the factory towns of northeast India, learned to speak English in a two-room schoolhouse and immigrated to the United States at age five. She earned a bachelor's degree in women's studies in 1988 from Brown University, where she began her career as an organizer, fighting race, gender and class discrimination. She got her master's degree in journalism at Columbia University in 2005. Sen lives in Queens, New York.
About Antioch University New England (AUNE)
Antioch University New England offers highly respected doctoral, master's and certificate programs in education, environmental studies, management and psychology. Located in Keene, New Hampshire, this unique institution serves approximately one thousand students each year. Our graduates have gone on to be leaders of positive change, working toward a more just and sustainable society. Founded in 1964, Antioch University New England is the oldest of Antioch University's graduate campuses. Learn more at: http://www.antiochne.edu.
About Antioch University
Antioch University serves adult students around the world and across the country, online and at its five campuses in four states. Each campus offers degree programs that meet—and often anticipate—the pressing needs of its region and the wider world. The University is also home to the landmark PhD in Leadership and Change; Antioch Education Abroad, an exceptional opportunity of immersive service and study programs; and WYSO, a leading public radio affiliate and an essential source of global news and opinion.
Antioch University is a nonprofit private 501(c) (3) organization and member of the North Central Association of Colleges and Schools, accredited by the Higher Learning Commission. For more information, visit http://www.antioch.edu.