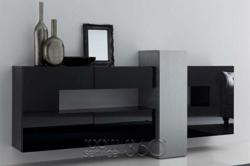 Quite possibly the most beautiful modern sideboard we've seen in years.
(PRWEB) March 15, 2012
Now available in North America through their exclusive modern furniture retailer, room service 360°, the Gallery 133 Modern Buffet by Spain's Milmueble has already sold a number of pieces both through the showroom in Pennsylvania and through their website. The piece makes the perfect companion to the rest of the dining room furniture that Milmueble manufacturers in Spain.
The Gallery 133 sidboard makes use of a stunning vertical cabinet to join the two asymmetrical sides of the buffet. The rectangular ring that makes up the buffet serves up multiple opportunities for storing dinnerware behind closed cabinet doors and art on display on the shelves that are created with its design. No matter how you slice it, this modern buffet will give you ample room to show off and hide certain parts of your dining experience and it will look awesome doing it.
The piece of art / furniture is available in a number of different high-gloss finishes including white, black and mocha as well as wood accent pieces like jet graffiti, silver oak and American walnut.
Milmueble is exceedingly proud of their latest sideboard in the Gallery 133 and see it as a "vision of elegance, packaged with simplicity, linearity and most importantly, versatility". No matter if you're in the market for a new dining room set, any lover of modern furniture is sure to be able to appreciate the sleek modern stylings of the Gallery 133.