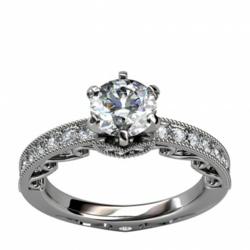 Working with a designer like Nashef, with such a long history of talent in jewelry making offers Diamond Nexus customers a rare opportunity to buy an affordable engagement ring that has been designed by a highly skilled artisan
(PRWEB) March 13, 2012
The new looks coming to Diamond Nexus include a complete line from designer Michael Nashef and an expanded 10K Value collection. Additionally, customers desiring the look of a celebrity ring can easily create a one of a kind ring with the Nexus Design Studio.
The designer rings in Nashef's line, called Intersecting Hearts, includes twelve new engagement rings. Much of the collection was designed with peg-heads, so that they can be semi-customized per customer request. "Working with a designer like Nashef, with such a long history of talent in jewelry making offers Diamond Nexus customers a rare opportunity to buy an affordable engagement ring that has been designed by a highly skilled artisan," said Nancy Jaeck, Nexus Design Studio Manager.
"The sweetest thing about his new line is that several pieces were designated for people close to him. He named the Maya Costa for his wife because it is based on the engagement ring he made for her. Sara Michael is named for his daughter who's due to be born this spring. He is passionate about what he does and I know that customers are going to adore his rings," commented Jennifer London, Social Media Coordinator.
The larger 10K line has been created to include 26 engagement rings to the inexpensive engagement rings already produced. It adds to the 10K Value Collection with ring options in various designs, from vintage to modern.
There is also an opportunity for customers who preferred the design of some of the Lorian Platinum engagement rings, to order them now in 10K gold. This addition is due to Diamond Nexus receiving a large amount of customer requests for the lorian platinum rings to be offered in gold as well.
Some of Diamond Nexus' most popular selling lorian platinum rings will now be offered in 10K gold. "The Gypsy, Secret Love and Call Me Sweetheart are some of the rings making the switch, to give customers wanting those rings in gold the option of doing so. The best thing is, it will be available online and customers won't have to order a custom ring to get it made in a different metal," stated Kyle Blades, Director of Marketing.
For customers expressing interest in designs celebrities own, the Nexus Design Studio gives customers the chance to get a similar look at a fraction of the price. Whether it is an exact replica or a ring using the inspiration from another in it's design, the Nexus Design Studio will create heirloom quality jewelry.
Diamond Nexus was founded in 2004 with the purpose of bringing to the public the powerful benefits of the lab-created diamond simulant revolution. They have over 250,000 customers worldwide that have awarded them an "A+" rating with the BBB, and are the ninth largest online jewelry retailer in America according to the 2011 IR500 list. For two years in a row brides from The Knot have selected them as their Best of Jeweler. Diamond Nexus currently has two retail locations: their flagship store at Woodfield Mall in suburban Chicago, Illinois, and a second store at Mayfair Mall in Milwaukee, Wisconsin. In 2009 the company was named the official jeweler and crown maker of the Miss Universe Organization as part of NBC/Universal's "Green is Universal" environmental initiative.