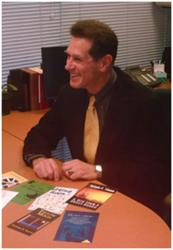 Today changing careers is often seen as focusing on improving oneself. Learning to get noticed by others helps to make a distinction between succeeding and failing short."
Antonio F. Vianna
San Diego, CA (PRWEB) March 24, 2012
Becoming an expert is no longer an incentive to a successful career, emphasizes Antonio Vianna, faculty member at California Miramar University, a private university known for its on-campus, hybrid and online MBA programs – it is now the imperative of professional success. He is currently working on the new book that analyzes how globalization creates demand for deep expertise, high proficiency, and specified knowledge-based skill sets.
Struggling economy is not the only reason that forces businesses to outsource the workforce overseas, says Professor Vianna. Another powerful factor in this process is rapidly changing technology interdependent on increasing value of information. Developing expertise is a process that requires careful planning, and choosing the right area of concentration is one of the most important decisions for those seeking a college degree.
Antonio Vianna is himself a prime example of someone who's refashioned his career to stay in step with the changing times. In his latest book, Career Management and Employee Portfolio Tool Kit, this renowned author offers efficient solutions for job seekers and those currently employed who seek advancement. In-depth insight into his research is also a part of Masters of Business Administration at California Miramar University.
This MBA program was ranked one of the Top 10 MBA Programs in San Diego County by the San Diego Business Journal. The high recognition is due to the fact that all faculty members at California Miramar University are chosen not only based upon their academic qualifications, but for their desire to teach and share their first hand professional experience. They drive the University's innovative capacity as experts in their fields because of their combined academic and professional knowledge and expertise.
California Miramar University's MBA program - including a reputed online MBA component - is focused on what makes businesses successful in all industries. Multiple case studies of businesses, large or small, highlight the unique advantages of each business and show how they contributed to the success. Students have the choice to learn on campus, online, or hybrid. The hybrid program is a combination of weekly class sessions and online study, which gives working professionals the flexibility to pursue the MBA in more traditional format while still advancing in their careers. Students can access their classes from anywhere in the world. All programs offer year round enrollment.
California Miramar University also stands out for having the most affordable tuition. With interest free payments MBA students can actually graduate debt free. Dedicated to honoring military veterans and their families and approved by the United States Department of Veterans Affairs, California Miramar University offers tuition assistance and offers many benefits from the GI Bill. In addition, qualified military spouses are entitled to a 50% discount for the entire degree program. Special Military Education Unit has a dedicated team that understands the challenges of military life and offers help with housing, base commands and many community resources.
In addition to its MBA programs, CalMU also has several other programs that are eligible for Veterans Affairs benefits, including Masters in Strategic Leadership, Masters of Science Telecommunications Management, Masters of Taxation and Trade for Executives, and Bachelors degree programs, among others.
Contact the Office of Admissions today to learn more and get started.
About California Miramar University
California Miramar University's School of Business & Management is one of the Top 10 MBA Schools in San Diego, California, ranked by the San Diego Business Journal. California Miramar University is accredited by both ACICS and DETC. CALMU's Miramar Campus is located just twenty minutes from downtown San Diego. In addition to the MBA programs, California Miramar University (CalMU) offers Associate, Bachelor's, Master's and Doctor of Business Administration programs. The diverse student body comes from across America, around the globe, all branches of the armed forces and veterans of the US military.
If you would like more information about this topic or to schedule an interview with California Miramar University, please call 858-653-3000 x12 or email info(at)calmu(dot)edu.