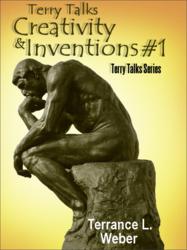 "The solution to this problem when found will be simple."
Toms River, NJ (PRWEB) March 16, 2012
Terrance L. Weber, author, announces his new EBook "Terry Talks Creativity And Inventions," this EBook explains the way inborn creative and inventive talents can give everyone a life purpose beyond measure. In short, those talents are gifts that lie dormant in everyone. To achieve the truest interest in life, a person must call up or make use of his or her natural ability to create and invent. Next a person needs to strive to enthusiastically study ways to use those talents in a profitable way while making this world better for everyone.
Creativity and the ability to invent useful and/or beautiful products and ideas can be lots of fun and extremely interesting. Learning how to create and invent takes effort, single-minded determination, patience, thinking and constant prayers asking for the Lord's guidance and help. Because God is the original and constant creator we, as His children, are all born with the potential to be successful, prolific creators and inventors of profitable ideas that can benefit everyone.
Therefore, it makes good sense to find ways to solve problems of all kinds. Problems that need solutions are everywhere. Profitable solutions to many of those problems are within the ability of ordinary people who decide to think about and search for simple ways to solve those problems.
A good way to start to find ways to solve problems is to order this book now. Simply write or call Originals By Weber, 338 Alabama Avenue, Toms River, NJ 08753, 732-864-0353 or 877-309-8382. EBook and Paperback copies of this new helpful book are available on Amazon.com Orders can also be placed on the following websites:
http://www.smashwords.com/books/view/141266 Place your order now for prompt delivery.